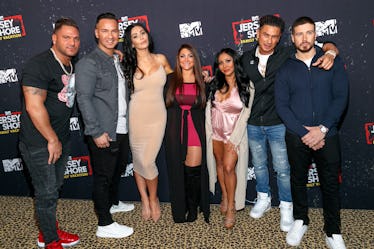 Here's How Much Money Each Member Of The 'Jersey Shore' Cast Makes
Rich Polk/Getty Images Entertainment/Getty Images
Have you done your G.T.L. recently? There are only a few more days until the Jersey Shore: Family Vacation premiere on April 5, and the expectations for the new season are at an all time high. The OG Jersey Shore cast is reuniting in Miami for another season of fist bumping, and while MTV may have successfully pulled the guidos away from their children, girlfriends, and husbands, I'm guessing that getting the gang back together wasn't cheap. How much does the Jersey Shore cast get paid? Quit your day jobs, folks, because it turns out that partying for a living is a pretty lucrative gig.
According to RadarOnline, each Jersey Shore cast member makes a different amount (or, at least they did for the original show), but even those on the lower end of the spectrum are getting a good deal. By the show's sixth and final season in 2012, the stars were making anywhere between $40,000 and $150,000 per episode, plus earning signing bonuses and additional money for reunion episodes and post-season specials. Considering MTV is paying the cast members to do what they would be doing at home — partying and hooking up with other hot guidos and guidettes — appearing on Jersey Shore sounds like the best job ever for these reality TV stars.
To no one's surprise, Nicole "Snooki" Polizzi ranked at the top of the pyramid with a reported $150,000 per-episode salary. Snooki is undoubtedly the fan-favorite cast member, and even now that she's married with kids, I can't wait to see what she'll get up to in Miami — although nothing will ever be better than her drunkenly yelling "Where's the beach?!" while on the beach.
Joining Snooki at the high end of the salary scale were Mike "The Situation" Sorrentino and Pauly "DJ Pauly D" DelVecchio, who also were reportedly paid $150,000 per episode for Jersey Shore Season 6. Both The Situation and DJ Pauly D are known to start stuff, so it's not shocking that MTV would reward them for their dramatic streaks. RadarOnline reported that after receiving $400,000 in signing bonuses, $200,000 in end-of-season bonuses, and $150,000 for a reunion episode, plus their per-episode salaries, Snooki, The Situation, and DJ Pauly D each made about $2.55 million for Season 6. BRB, becoming a reality star ASAP.
The rest of the cast didn't make as much as the show's top three earners, but don't expect them to run out of money any time soon. Snooki's best friend Jenni "JWoww" Farley reportedly earned $100,000 an episode during Season 6, most likely for her constant feuding with Sammi "Sweetheart" Giancola and her quick temper. Vinny Guadagnino, who somehow became the voice of reason throughout the show's six seasons, earned a reported $90,000 per episode, according to RadarOnline. And both Sammi Sweetheart and her on-and-off boyfriend Ronnie Magro reportedly brought in $80,000 an episode for basically showing fans what a relationship shouldn't look like.
What about Snooki's fellow meatball Deena Cortese? RadarOnline reported that Deena — who married her longtime boyfriend Christopher Buckner in October 2017 — earned much less than her cast mates, reportedly only bringing in $40,000 per episode. Not that this is anything to sneeze at: She still made at least $480,000 for Season 6. Deena only joined the Jersey Shore cast in Season 3 and was often treated more like Snooki's supportive friend than a main cast member, but now that Jersey Shore: Family Vacation is here, I'm hoping for more Deena (and for a bigger payday for the hilarious star).
While there's no information available about how much each cast member is making for Jersey Shore: Family Vacation, I have no doubt their salaries will reflect the ridiculous antics MTV keeps promising. Everyone besides Sammi Sweetheart will be reuniting down in Miami, so this family vacation is sure to be one the cast will never forget — and maybe won't remember.
Jersey Shore: Family Vacation premieres at 8 p.m. ET on Thursday, April 5, on MTV.
This post was originally published on April 2, 2018. It was updated on Aug. 26, 2019.