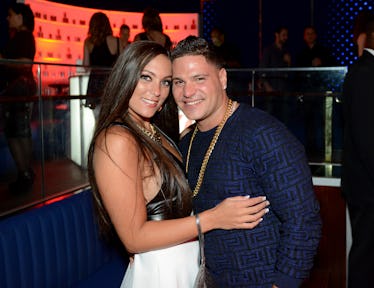 Sammi Sweetheart Just Broke Her Silence About Why She's Not On The 'Jersey Shore' Reboot
Chris Roque/Getty Images Entertainment/Getty Images
Despite how excited Jersey Shore devotees are about the majority of the cast reuniting in new series Jersey Shore Family Vacation, the biggest disappointment has been Sammi "Sweetheart" Giancola not returning for the reboot. Best known for her on-and-off-again relationship with Ronnie Ortiz-Magro, Sammi has been relatively quiet about her reasons for not returning to TV. Keep calm, but she's finally spilled about her no-show, and Sammi Sweetheart's reason for not joining Jersey Shore Family Vacation makes total sense.
The New Jersey native took to Instagram on Friday to finally explain her reason for staying away from the new show in detail. Previously, castmate Nicole "Snooki" Polizzi offered a vague explanation for Sammi's absence, but emphasized that she wasn't going to speak for her friend. On her podcast It's Happening with Snooki & Joey, Snooki shared:
Everyone's asking why Sammi's not doing it. You have to ask her that — I'm not gonna speak for her. But Sammi is just in such a happy place that I feel like she doesn't want to jump back into that drama if it does happen. And being that there was a lot of Ron and Sam drama when we did film, it was just really hard on both of them. So I just think she doesn't want that anymore.
Sammi, now 31, posted a message on her Instagram explaining that she wanted to avoid "potentially toxic situations" during filming. Given how turbulent her relationship with Ronnie often was, her precaution makes total sense. Sammi is also currently dating Christian Biscardi, while Ronnie is expecting a baby with girlfriend Jen Harley, so it's clear that Sammi had both budding relationships in mind when stepping away from the reunion opportunity.
I have chosen not to join the show this season because I am at a completely different place in my life right now focusing on my businesses and relationship. I am not the same person as I was when I was 22. At 31, I am currently extremely happy in every aspect of my life and want to avoid potentially toxic situations... I will forever be grateful to Jersey Shore and everything it has brought to me!
Admitting that the decision was difficult to make, Sammi also shared some love for her Jersey Shore roommates and the life-changing experience of the original show. She also dropped a major hint that she wasn't completely ruling out TV appearances, writing in her photo message's caption:
I love you guys! Thank you all so much for your DMs, comments, messages and kind words. I read them all and am forever grateful and thankful for you guys!... stay tuned.. I'm not going anywhere.
Hmm, do I smell a spinoff starring Sammi?
Since Jersey Shore ended in 2012 and Sammi split up with Ronnie for the last time in 2014, the reality TV alum has launched her own fashion line called Sweetheart Styles. She has also created several fragrances and has designed clutchlets, which honestly look perfect for a fun night out.
Keeping up with all of the biggest trends in the world of reality TV stars, Sammi also has her own podcast Just Sayin', which she runs with relationship expert Siggy Flicker and TV host Clare Galterio. Discussing their lives and all of the hottest celebrity gossip, the ladies have covered everything from throwback favorites to New York Fashion Week.
Sammi has obviously kept busy during her break from TV, but I think a spinoff covering all of her business ventures could totally take off well on MTV. Plus, who doesn't love a TV redemption story of women moving past their old relationships and clearly thriving in life?
Now that we know that Sammi still supports her friends on the show, I can enjoy the new series in peace. Jersey Shore Family Vacation premieres at 8 p.m. ET on Thursday, April 5, on MTV.