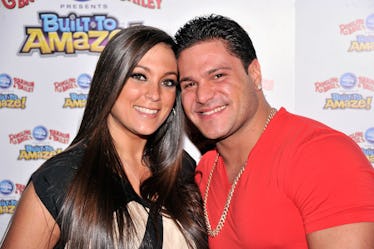 Details About Sammi & Ronnie's Relationship Will Make 'Jersey Shore' Fans Scream "Staaahp"
Stephen Lovekin/Getty Images Entertainment/Getty Images
If there's any phrase from reality TV that you can utter without any explanatory context in a room of millennials, it's "Raaahn, stahp." The unintentional catchphrase of Jersey Shore's Sammi "Sweetheart" Giancola sums up her former on-and-off-again relationship with castmate Ronnie Ortiz-Magro, who she instantly gravitated toward at the start of the iconic series' first season in 2009. Despite always delivering prime romantic drama, Sammi is the only longtime cast member not reuniting with the rest of the gang for the upcoming Jersey Shore Family Vacation. Given her distance from the new series and Ronnie currently expecting a baby with his new girlfriend, do Sammi and Ronnie still talk?
Before Instagram celebrities and personal brands were a thing, the Jersey Shore cast were the epitome of true reality stars. These were people just living their best lives at the shore and genuinely not really caring that there were cameras there. There were definitely no Bachelor-esque glitter bombs on Jersey Shore, and Sammi and Ronnie's boardwalk blowups were partially to thank for the show's total realness. Although they always seemed to find their way back to each other, the two also had some brutal breakups that usually fell back on their failure to communicate. Who could forget the infamous note two roommates wrote to clue Sammi in on Ronnie's promiscuous behavior?
The couple called things off for good in 2014, according to Us Weekly.
When the news broke in December 2017 that Sammi wouldn't return for the reboot series, sources told E! News that the reason was because of her wish to not film with Ronnie again. Plus, Sammi is currently in a relationship with boyfriend Christian Biscardi, while Ronnie is dating Jen Harley, the mother of his expectant baby. As Nicole "Snooki" Polizzi explained on her It's Happening with Snooki & Joey podcast, Ronnie and Sammi had such a turbulent relationship that Sammi seems unwilling to even see him again:
Everyone's asking why Sammi's not doing it. You have to ask her that — I'm not gonna speak for her. But Sammi is just in such a happy place that I feel like she doesn't want to jump back into that drama if it does happen. And being that there was a lot of Ron and Sam drama when we did film, it was just really hard on both of them. So I just think she doesn't want that anymore.
Ronnie and Sammie have seemingly avoided directly saying whether or not they still speak to each other, but it isn't difficult to tell that the pair likely haven't spoken in a long time. Speaking to TooFab last November, Ronnie said of Sammie:
I made a decision and she made a decision, there's nothing I can really say about that. It's something she chose to do and it's her choice. So you know, as someone who was around her forever, you gotta respect that. We all respect that and we just wish her the best. If she's happy and she's in an amazing place, god bless her, and we all really do just wish her the best and nothing but good things for her.
While Ronnie's appearance on the series may look like the rest of the group is siding with him in this debacle, fellow castmate Deena Nicole Cortese hinted last summer that Ronnie had excluded himself from the others. She told Us Weekly:
I honestly don't know if anyone has spoken to him about [the new series]. Right now we're in a group chat with me, Pauly [DelVecchio], Vinny [Guadagnino], Mike [Sorrentino], Nicole, Jenni [Farley], and Sam. Ronnie's actually not in it right now, in the group chat, but we're all talking about it and we're all trying to figure out ways to make it happen.
Ouch. Things can't be good when you're cut out of the group chat.
In 2017, Ronnie appeared on the E! series Famously Single, where he met and later briefly dated Malika Haqq. In an interview with TooFab last June, he mentioned that both he and Sammie were happy where they were and that he was content with that. He admitted that he spoke to Sammie before he filmed Famously Single, and it seems that the conversation was a bit of a truce for the former couple:
Me and Sam [were] speaking before the show... we just realized that it's better to go our own separate ways and see what it's possibly like without each other and see what, you know, the world has to offer.
It seems that both Sammie and Ronnie have made their peace with each other, but not speaking may be the healthiest situation for them to continue that mutual respect. Sammie's absence from the show may mean less romantic drama, but as long as we hear some cheers of "GTL" or "T-shirt time," I think we'll be fine.
Jersey Shore Family Vacation premieres at 8 p.m. ET, Thursday, April 5, on MTV.