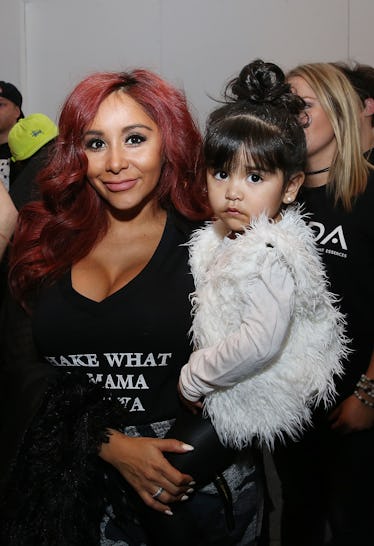 Snooki's Kids Are Mini 'Jersey Shore' Cast Members & They're So, So Cute
Bennett Raglin/Getty Images Entertainment/Getty Images
Nicole "Snooki" Polizzi made her unique mark on pop culture in a major way when she became a breakout star from MTV's Jersey Shore when it premiered back in 2009. The audience watched her wild fun-in-the-sun high jinks unfold for six fist-pumping seasons — we laughed, we cried, we learned what the descriptive term "meatball" was. Even though she's returning for another round of seaside shenanigans in South Beach with Jersey Shore Family Vacation, which premieres April 5, these days she goes by mom. The 30-year-old has two children with husband Jionni LaValle. And Snooki's kids are absolutely adorable — she often shares sweet social snaps of what they're up to.
Longtime fans of Jersey Shore may remember that Snooki's pregnancies were documented on her spinoff with BFF Jenni "JWoww" Farley, the aptly title Snooki & JWoww, which ran from 2012-2014. Snooki gave birth to her first child, Lorenzo in August 2012. She had her daughter Giovanna in September of 2014.
"We're still the exact same people, but we just now how to take care of kids now," Snooki told Romper in 2016, about how she and JWoww (a mother of two herself) have changed over the years.
"Being a mom is the best thing that happened to me—it changed my life. It's literally the best thing and the most rewarding job ever. I love my kids. I love being a mom," Nicole explained to Parents Magazine. The reality star's adventures in motherhood have even given birth to more family-focused career moves — she and Jenni teamed up again for the web series Snooki and JWoww: Moms With Attitude so they could share their mommy experiences with fans and fellow moms.
Snooki even wrote a book on the subject. Her 2015 memoir, Baby Bumps: From Party Girl to Proud Mama, and all the Messy Milestones Along the Way, chronicles the ups, downs, and messy in-betweens of being a mom with all the Snooki-fied honesty we've come to know and love from the TV personality.
Snooki's little ones are growing into little mini-mes of their proud mama, according to her posts. "My twin," she captioned a photo of Giovanna holding up a throwback pic of similarly-aged Nicole.
And it looks like her children are just as excited for Jersey Shore to return to TV as diehards of the original hit are. Snooki shared a cute video of them cheering for their mom while watching the trailer for the upcoming Jersey Shore Family Vacation. "THE TRAILER JUST AIRED! My kids are PUMPED for #JSfamilyvacation," she wrote.
Of course, she missed her children while filming the reality revival in Miami, so she couldn't resist posting a pic of them upon her return. "First day home after 4 weeks of filming #jsfamilyvacation .. calls for jammies ALL DAY with the kids and ice cream for lunch. Missed my nuggets & @jlavalle5 SO MUCH!," Snooki wrote back in February.
One of the best things to come out of the Jersey-verse has got to be the long-lasting friendship between Jenni "JWoww" and Snooki. The forever-bonded pair become moms around the same time and their kids have even grown into besties themselves.
"She's the best mother I know. I admire her in so many ways, but when it comes to being a mother, she is 100% hands-down the best," Jenni revealed to E! News last year. "We are best friends raising best friends. It doesn't get better than that."
Even though Snooki's come a long way from her days frolicking on the boardwalk, I can't help but get excited to see her and the rest of the Jersey crew back at the beach. Jersey Shore Family Vacation premieres Thursday, Apr. 5 at 8 p.m. on MTV.