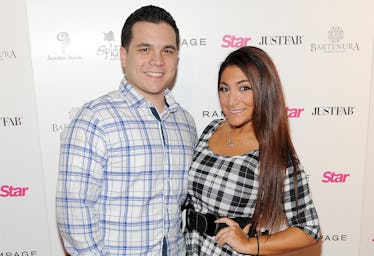 Here's Everything 'Jersey Shore' Fans Should Know About Deena's Life In 2018
Angela Weiss/Getty Images Entertainment/Getty Images
Get ready to GTL, because Jerzdays are almost here. After an almost six-year hiatus, Jersey Shore is returning to MTV with Jersey Shore: Family Vacation, a reboot that's taking the entire gang (minus Sammi "Sweetheart" Giancola) down to Miami for some fist-pumping fun. But this time around, don't expect the same drunken makeouts that were so entertaining in 2009. Many of the OG cast members are now married, including Deena Cortese, the Shore's favorite meatball. Who is Deena's husband? If you're a die-hard fan, you'll recognize Christopher Buckner as Deena's boyfriend from Seasons 5 and 6. The super nice guy was always down to let Deena party — even when she went a little overboard — and all these years later, he's still excited for his wife to head down to Miami for some fun.
Deena and Chris have been dating since 2011, when they met through mutual friends. According to their wedding website, Deena had just finished filming Season 4 of Jersey Shore (the infamous Italy season) and was spending some downtime at home in New Jersey when the two met. They immediately fell for each other, and their relationship developed quickly: they got a dog, Cali, and bought a house together. Chris' family were big Jersey Shore fans, so they "absolutely loved Deena" — despite seeing her drunkenly wipe out season after season on Jersey Shore.
In November 2016, Chris proposed while they were on vacation in Mexico, and Deena took to Instagram to share the news.
Deena then posted another photo, and the caption is so Deena I can't even handle it. "The pic on the left was me a little after he proposed after I was finished happy sobbing lol Christopher did such an amazing job picking me out the perfect ring," she wrote.
Like Deena, Chris loves posting pics of the two of them on Instagram. When the couple married on Oct. 28, 2017 at a winery in New Jersey (because, duh, where else would this Jersey Shore star get married?), Chris posted a sweet pic of him kissing his bride and thanked everyone for all the love and support.
Deena's Jersey Shore castmates also showed their love at the wedding, and pretty much everyone posted sweet pics congratulating the bride and groom.
It's not super shocking that Deena is still close with her Jersey Shore pals (they're all going down to Miami again, after all), but fans of the show may be a little more surprised to know that the self-proclaimed meatball is actually really close with Sammi. Ronnie's ex-girlfriend attended Deena's bridal shower in May 2017, and the two have hung out plenty of times since, both with and without their Jersey Shore co-stars. As dramatic as things in the house could get at times, it's nice to know that everyone actually came out as good friends.
I'm sure that it was super meaningful to Deena that her Jersey Shore co-stars attended her wedding, especially because the event was bittersweet for the reality star: Her father passed away in June 2016 from leukemia and wasn't able to see his daughter get married. This was a tough loss for Deena, but it seemingly made her relationship with Chris stronger, and she's posted often about how she knows her father is looking down on her. According to their wedding website, once Deena's father passed away, "Chris and his family took Deena and her mom under their wings and helped them through the hard times." Chris really seems like a great guy, and I'm so happy that Deena found a partner to help her through life's ups and downs.
Deena's relationship with Chris is definitely rock solid, so going to Miami for Jersey Shore: Family Vacation is a no-brainer. And from the looks of the trailer, marriage isn't going to stop Deena from going hard.
Jersey Shore: Family Vacation premieres at 8 p.m. ET Thursday, April 5 on MTV.