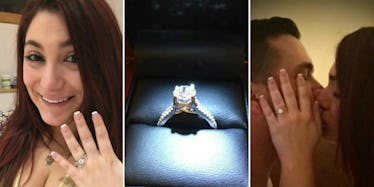 Deena From 'Jersey Shore' Got Engaged And Her Ring Is Insane
Instagram
When I first saw "Jersey Shore," I thought to myself, "I hope all of them find happiness and their perfect soulmate." Then I thought, "Will anyone ever want to smash me?"
While I'm still waiting for someone to have the urge to smash me, I'm happy to say one more houseguest has found their happiness.
Deena Cortese is officially engaged!
Her longterm boyfriend and now fiancé Christopher Buckner asked Deena on November 18 while they were on vacation in Riviera Maya, Mexico.
She took to Instagram to share the news. She wrote,
I always knew I would spend the rest of my life with Christopher... But last night while we were walking on the Beach in Mexico he made it official! We're engaged!
Snooki's long time friend, who joined the cast in the third season of the "Jersey Shore," couldn't hide her excitement. She posted a second picture.
She wrote,
The pic on the left was me a little after he proposed after I was finished happy sobbing. Christopher did such an amazing job picking me out the perfect ring... It fits my little hand perfectly... This still all doesn't feel real! I love you @cbuckner_ this weekend has been so amazing so far.
After the reality TV star said yes, she and her boo lounged by the pool.
She wrote about what a perfect weekend Christopher picked for the engagement. Deena lost her father in June, and she and her mother have had a hard time moving on. She wrote,
Chris couldn't have picked a better time to do all of this especially with the holidays coming up and me and my mom being super sad about not having my dad here. I'm glad we are able to end the year with a happy moment. I know my dad had a front row seat when Chris proposed and I know he's looking down with a smile from ear to ear.
Congratulations to the happy couple!
Citations: Jersey Shore's Deena Cortese Is Engaged to Christopher Buckner — See Her 'Beautiful' Ring! (US Magazine)