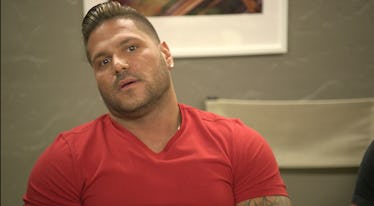 This Update About Ronnie After That Fight With His Ex Is So Upsetting
MTV
Ronnie Magro-Ortiz's personal drama may have gotten too big for his reality show. Stories about Ronnie's embattled relationship with his ex-girlfriend Jen Harley have been getting more and more intense as the first season of Jersey Shore Family Vacation aired, and now fans want to know, is Ronnie on Jersey Shore Family Vacation Season 2? Well, he may be in parts of the new season, but it sounds like he has stopped filming with the rest of the cast recently.
A new report from the New Jersey-local Asbury Park Press reveals that the whole Jersey Shore cast reunited at their old stomping grounds on the Seaside Heights boardwalk last week, except both Ronnie and Sammi were not there. The Jersey Shore cast was spotted filming the second season of their reunion series Jersey Shore Family Vacation, which they began production on earlier in June in Las Vegas, and will also apparently include a trip back to their first Jersey Shore shore house. Sammi's absence does not come as a surprise, since she opted not to return for the reunion show in its first season, and has apparently not changed her mind now that Season 2 is in the works, but the fact that Ronnie was not part of the filming is much more telling.
According to the report, the Family Vacation cast was only filming in Seaside Heights for two days last week, and have since moved production to another unnamed New Jersey town. In Ronnie's place, ousted Jersey Shore star Angelina has returned to film with the cast, after making amends with everyone in Season 1 of Family Vacation.
Although Ronnie was not present for filming in Seaside Heights, he had reportedly already been filming for Season 2 of Jersey Shore Family Vacation in Las Vegas a couple weeks ago, so it sounds like he will still be featured in the upcoming season. However, it is unclear if he will return to film any more of the season following a physical altercation with his ex-girlfriend Jen Harley, last weekend, which has reportedly left Ronnie bloodied and bruised.
A couple days before the Jersey Shore cast returned to Seaside Heights to film, news broke that Ronnie's ex Jen Harley had been arrested on a charge of domestic battery. Reportedly, Jen had hit Ronnie in the face while driving home from a barbecue last Sunday. She had reportedly driven over the median and flattened three tires, and when Ronnie tried to leave the car, he got caught on the seat belt and was dragged alongside the car as Jen drove off. The couple's newborn daughter Ariana Sky was reportedly in the back seat, but was not harmed in the ordeal.
A few weeks earlier, Ronnie and Jen had officially broken up after a public blowup on social media. Shortly after giving birth to the couple's daughter Ariana Sky in April, Jen Harley and Ronnie shocked fans by hurling insults at one another on Instagram. While that was happening in real time, Jersey Shore Family Vacation was airing episodes that hinted at Ronnie cheating on Jen, and the reality star admitting that he probably does not love her and is apprehensive about becoming a father.
Clearly, Ronnie has a lot to deal with right now, but although he seems to be taking some time off from filming the new season of Jersey Shore Family Vacation, it looks like he might be getting back into the show. Early on Monday morning, Ronnie shared via Instagram that he had just returned to his home in Las Vegas after a quick flight to New Jersey. Although the Family Vacation cast had already wrapped filming in Seaside Heights, they were reportedly continuing to film in Jersey throughout the weekend, so Ronnie may have actually met up with them for a bit.
The second season of Jersey Shore Family Vacation will premiere on MTV in August.