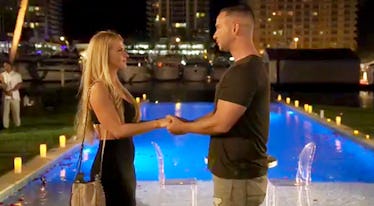 The Situation's Wedding Will Air On 'Jersey Shore: Family Vacation', So You're Invited
MTV
Prepare to hear wedding bells when Jersey Shore Family Vacation returns for its second season, because Mike "The Situation" Sorrentino just confirmed that the new season will include a very special episode. Yep — every Jersey Shore fan will be invited to the big day, because The Situation's wedding will air on Jersey Shore Family Vacation Season 2. After fans got to see his emotional proposal this season, it will be a full-circle moment to watch The Situation and his fiancée Lauren Pesce walk down the aisle in the upcoming season.
There are still no official details about the upcoming Situation wedding, including exactly when or where it may be, but Mike Sorrentino did recently confirm that the nuptials will be filmed for MTV's cameras and air in Season 2 of Jersey Shore Family Vacation. And since the new season is in production right now, that must mean the wedding is going to be happening pretty darn soon, huh!? The Situation confirmed on Twitter recently that his wedding will indeed be televised on the new season of his reunion reality TV show, after much speculation from viewers. So start thinking up some good wedding hashtags now, because we are all going to be watching the Sitch get hitched very soon. Oh wait, that's a good one: #SitchGetsHitched! Let me know if you want to use that one, Mike.
Jersey Shore viewers got to see Mike and Lauren's romantic story firsthand on the first season of Jersey Shore Family Vacation. In one of the final episodes, Lauren visited the Miami shore house and the whole cast helped Mike plan the perfect surprise proposal in the backyard. It resulted in one of the most touching and beautiful moments of the season (not that there's a lot of competition in Jersey Shore Family Vacation), and got fans pumped to learn more about the couple's upcoming wedding.
After the proposal aired, Mike and Lauren told People they're dreaming of having a big destination wedding in Italy, but now that they're in the thick of planning it, they're actually looking more toward saying "I do" in New Jersey and going with an Italian theme rather than actually flying out of the country. I mean, is there really a more appropriate place for The Situation to get married than the Jersey shore? Although the second season of Jersey Shore Family Vacation began its filming process in Las Vegas at the end of June, the cast has recently been spotted filming in Seaside Heights, New Jersey, back where they filmed the bulk of the original Jersey Shore series. Hmm, could they have brought the cameras back to Jersey to film Mike and Lauren's wedding? If so, then this thing might be going down a whole lot sooner than any of us expected.
Having the wedding soon also makes sense for the couple since, according to Life & Style, Mike will receive his judicial sentencing on Sept. 7 for his tax evasion charges, which he is reportedly facing up to five years in prison for, per TMZ. Of course, Mike and Lauren definitely want to get married before then in case worse comes to worse and Mike is sent behind bars for a number of years. The couple has said before that fans would see a lot of the wedding planning process in the new season of Family Vacation, but this is the first time they have confirmed that the actual wedding itself will be televised in the new season for everyone to see.
And Mike's wedding isn't the only thing we have to look forward to in Season 2: Deena's pregnancy and Ronnie's relationship drama will also be featured in the new season, which is set to premiere in August.