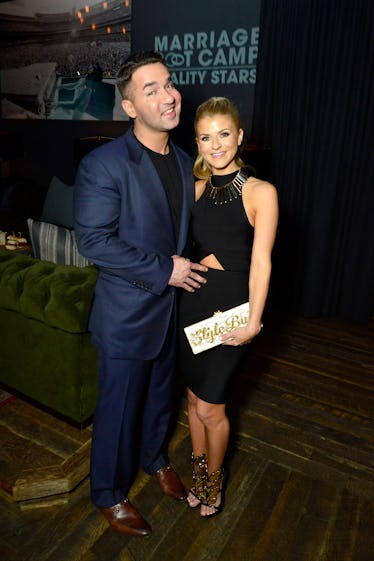 Here Are The Chances 'Jersey Shore' Fans Will Get To See The Situation's Wedding On TV
Jerod Harris/Getty Images Entertainment/Getty Images
MTV viewers were lucky enough to witness Mike Sorrentino's romantic proposal to Lauren Pesce on Thursday night's episode of Jersey Shore Family Vacation, but will The Situation have a TV wedding? The reality star got down on one knee and declared his everlasting loyalty to his college sweetheart and now fans are hoping they'll be in all of the prepping as well the big day. The Jersey fam knows how to do a celebration right, so here's hoping fans get to watch the Sitch get hitched.
"I always dreamed of doing a proposal on Jersey Shore, and for years we didn't have Jersey Shore," Mike told Entertaintment Tonight on June 15. "So when it came back to the forefront and everyone was going, I was like, 'You know what? I'm going to do it.' And finally I was able to do it. My best friends were all there. We did it in such a big way…"
"You make me a better person. Please make me the happiest man on earth. Will you please marry me?" Mike gushed while popping the question.
Mike and Lauren's engagement was practically a dream wedding in itself. A warm Miami night, Pauly D DJing, friends dancing, rainbow sprinkle cookies, and a heartfelt monologue about love... what more could you ask for? Well, a televised version of the actual nuptials/reception would be nice.
"We're working on it, yeah, we're working on it," Mike added to ET, when asked if the wedding will be televisied.
Mike has also revealed that Lauren (or Laurens, as he playfully refers to her) will be on more episodes of Family Vacation — the pair is in the "beginning steps of wedding planning mode." Something tells us he alraedy has a DJ in the bag. Perhaps Vinny's mom could cater? Mike clearly enjoys her cooking — he's living his best life, after all! — so maybe she could whip of some mean matrimony raviolis.
"The amount of time I've waited for this moment has humbled me and made me be able to be more mindful and appreciate the moment," Lauren explained to Us Weekly, discussing the surprise engagement. "As much as people don't want to hear it, it's always worth the wait. It couldn't have happened at a better time in our lives."
Lauren and Mike also told the mag they would be interested in having an intimate destination wedding and a larger party for those who couldn't attend. Mike mentioned Italy as a dream locale when speaking with ET.
Mike and Lauren met in college prior to his days shooting Jersey Shore. They dated for about four years before reuniting in 2012 when the initial iteration of the series wrapped for good. The two have been through a lot together — Mike's legal troubles, his addiction issues, and a successful stint on Marriage Bootcamp in 2015. "It really helped us out and it still helps us out to this day," Sorrentino told People.
The second season of Jersey Shore Family Vacation is currently filming in Las Vegas, which is basically the wedding capital of the world. No matter where or how "Mr. and Mrs. Situation" end up saying "I do," it's pretty certain Mike's Jersey Shore family will be by his side.
"Right now I'm feeling like all these bad times I've been through are all worth it for this moment," Mike said on June 21's Family Vacation after pulling off the epic proposal with immense assistance from his castmates.
Congrats to the happy couple!
Jersey Shore Family Vacation airs Thursdays on MTV. The Season 1 finale is set for next week on June 28.