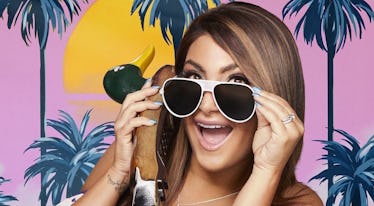 Deena From 'Jersey Shore' Is Pregnant & The Announcement Post Is Everything
MTV
There is a new Jersey Shore baby on the way! Deena Cortese revealed that she is pregnant with her first child, with her husband Chris Buckner. Yep — Deena from Jersey Shore is pregnant, and she and Chris announced the news in the cutest way! Oh, and yeah — this is definitely going to be a big deal on Season 2 of Jersey Shore Family Vacation, right?
Deena lived her full meatball life in the first season of Jersey Shore Family Vacation, which just finished airing. Some of the best highlights from the reunion series involved Deena getting wasted and acting ridiculous, whether she was yelling at passing boats from the back yard or (literally) crashing guys' night out. But it looks like Deena will be reigning in her antics for Season 2 of Family Vacation, which she is currently filming, because the reality star just revealed that she and her husband are expecting a baby.
On Monday morning, Deena took to Instagram to announce that she is currently in her second trimester, and her first baby with husband Chris Buckner is due in December. The news is especially timely and adorable for viewers of Jersey Shore Family Vacation. In last week's season finale, Deena remarked how she was excited to return home and make "meatball babies." It sounds like she did just that!
Check out Deena's pregnancy announcement below, which includes 10 beautifully shot photos:
Along with the photos, Deena wrote that she wanted to wait until she was in her second trimester to share her pregnancy news, and that she and Chris have already decided to name the baby boy Christopher John.
Chris and I Decided to wait until we were ready to spill the beans! 💙Now that we are safely into our second trimester.. us and our little monkey are ready to tell the world Our little family is growing ! We have a sweet little boy on the way! We Are truly blessed and our hearts are filled with so much joy and happiness💙 December can't come soon enough! Daddy and Mommy can't wait to meet you Christopher John❤️ you are going to be the most spoiled little boy ever!!!!
Deena and Chris got married a few months before she began filming Jersey Shore Family Reunion at the beginning of 2018. The couple tied the knot on Oct. 28, 2017, after about six years together. Deena met Chris in 2011 while on a break from filming the original Jersey Shore series, and they have been going strong ever since.
Fans might remember that Deena and Chris' wedding foreshadowed a lot of the drama that took place in Jersey Shore Family Vacation house for the first few days. The whole Jersey Shore cast attended the nuptials except Ronnie, who was notably absent from all the pics. Even Sammi, who turned down being a part of Family Vacation, showed up! This was one of the things that made it clear that Sammi opted out of Family Vacation in order to avoid Ronnie. In the first few days in the house, Deena vocally defended Sammi's decision and got in a few fights with Ronnie, saying that she would be sticking up for Sammi in the house since she was not there to stick up for herself.
Interestingly enough, the first season of Jersey Shore Family Vacation also centered around a pregnancy. A big part of the season involved Ronnie trying to cope with becoming a father, as his girlfriend Jen Harley had recently announced her pregnancy when filming began. Since the cast is currently filming Season 2 in Las Vegas, Deena will be pregnant throughout the new season. We will just have to wait until the new season airs in August to see how this will affect things in the house.