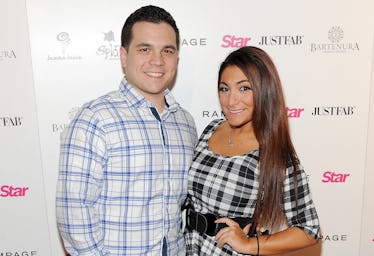 Deena & Chris' Love Story Will Make You Want To Fall In Love At The Jersey Shore
Angela Weiss/Getty Images Entertainment/Getty Images
When Deena joined the Jersey Shore cast in Season 3, I immediately fell in love with Snooki's meatball pal. Deena was always down to party, and unlike some of her roommates, she generally avoided drama and preferred instead to just drink and ignore it (girl, I feel you). Naturally, when Deena met a great guy like Chris Buckner, who fans met on the later seasons of the show, I was super psyched that this underrated Jersey Shore star had finally found an equal. So, when did Deena and Chris get married? Deena and Chris are still in the honeymoon phase of their marriage, so don't expect her to quit her hard-partying ways any time soon.
Deena and Chris married on Oct. 28, 2017, but their love story started much, much earlier. The couple has been together since 2011, when they met through mutual friends. Their relationship started like any other: While on a break from filming Jersey Shore (she had just finished filming Season 4 in Florence, Italy) Deena was hanging out with her friends at a bar in Freehold, New Jersey and was introduced to Chris. The two immediately fell for each other, and it wasn't long before they were taking big steps in their relationship, including getting a puppy and buying a house together.
As anyone familiar with Jersey Shore knows, family is the number one priority, so it was important to Deena that Chris' family like her and vice versa. According to their wedding website, this was never an issue, because "Deena's parents absolutely loved Chris and Chris' parents absolutely loved Deena" (although Chris' family got a head start — they were big Jersey Shore fans and liked Deena from the beginning).
Things were going great in their relationship until 2016, when Deena's father was diagnosed with leukemia. When he passed away in June 2016, Deena was devastated, but "Chris could not have been a better rock for Deena and her mother," and he and his family even stepped in to support Deena and her mom "through the hard times," the couple writes on their wedding website. Awww, Chris seems like such a good guy. I'm so happy that my girl Deena found someone like Chris, because we all need a partner to lean on in tough times.
After five years of dating, Chris finally popped the question in November 2016, and Deena was ecstatic (duh). The two were on vacation in Mexico when Chris got down on one knee — important info: on the beach, under the stars — and Deena immediately shared the good news with her Instagram followers. "I always knew I would spend the rest of my life with Christopher," she wrote in the first of two posts from that night. "But last night while we were walking on the Beach in Mexico he made it official!! We're engaged!!!!!"
Less than a year later, Deena and Chris married at a winery (on brand, definitely) in New Jersey. It was a super romantic night for everyone involved, and from the many, many pics the two posted, it seems like it was an evening filled with flowers, fireworks, a lit dance floor, and plenty of drinking. Everyone had a great time at Deena and Chris' wedding — including her Jersey Shore friends, all of whom (minus Ron) showed up to celebrate with the couple.
Deena may be married, but don't expect her to follow in JWoww and Snooki's footsteps and start popping out babies any time soon. On the Jerzday, April 12 episode of Jersey Shore Family Vacation, Deena made it clear to her male roommates that she and Chris aren't trying to have a baby right now. Giving up wine for nine-plus months? You know Deena's not about that.
Jersey Shore Family Vacation airs at 8 p.m. ET Thursdays on MTV.