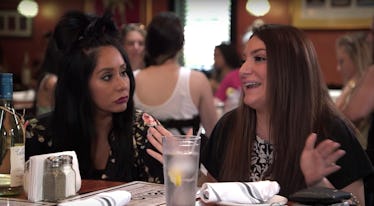 'Jersey Shore Family Vacation' Season 2 Trailer Gives Us A Premiere Date & A Ton Of Drama
MTV
It is time for round two, guidos and guidettes! MTV has just unveiled a first look at the second season of Jersey Shore Family Vacation, and it definitely looks like the upcoming season will be full of even more drama than the first season. The Jersey Shore Family Vacation Season 2 trailer includes all of the craziness we were expecting — like Ronnie's baby and Deena's pregnancy announcement — and a couple of twists we did not see coming — Pauly D is married!? But most importantly of all, it gave us a premiere date to put on our calendars.
Jersey Shore Family Vacation Season 2 will premiere on MTV on Thursday, Aug. 23, the new trailer reveals. Yeah, that is less than a month away! It is also less than two months since Season 1 of Jersey Shore Family Vacation aired its finale episode at the end of June, which is a pretty incredible turn-around and could set a precedent for Family Vacation airing nearly year round.
But on to the contents of the short new teaser. The clip may only be 15 seconds long, but it includes a whole lot of shocking moments. First, we see Ronnie holding his newborn daughter Ariana Sky, confirming that his recent drama with ex-girlfriend Jen Harley has not kept him off the show, and then we also see the other big baby news that we knew was coming: Deena telling her housemates that she is pregnant. The teaser also includes a few surprises, such as the return of Angelina and Pauly D's wedding. Check out the new trailer below:
OK, we are not that dense, MTV. That is clearly Vinny under that veil putting a ring on Pauly D's finger. It looks like the two costars are taking their bromance to the next level in Season 2, which will be set in Las Vegas, so of course they had to include an Elvis Presley impersonator-officiated wedding somehow. While Pauly D was the only single member of the Family Vacation cast last season, this time around, Pauly will be joined by Vinny and Ronnie, both of whom broke up with their respective girlfriends over the course of the show airing.
But just because the wedding shown in the trailer is a sham, that does not mean that there won't be a real wedding going down in Las Vegas. Earlier this month, The Situation confirmed his wedding will air on Jersey Shore Family Vacation this season, after fans watched him propose to his longtime girlfriend Lauren Pesce in Season 1.
The new teaser also confirms controversial houseguest Angelina will return again — you can see her face for a split-second in a scene where she is slapping Vinny in the face.
As viewers will recall, Angelina made her return to the Jersey Shore cast in Season 1 of Family Vacation, and actually seemed to make amends with everyone before leaving the house. That tenuous peace might reach a breaking point when she returns in Season 2, though.
Get ready for Jersey Shore Family Vacation Season 2 to debut on MTV on Aug. 23.