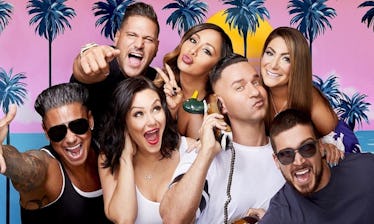 Here's Everything We Know About 'Jersey Shore' Family Vacation Season 2
MTV
If you're about to freak out over the fact that there's only one episode of Jersey Shore Family Vacation left, don't spiral just yet. The hit reality show will indeed be back for at least another round of club-hopping, prank wars, Sunday dinners, and fist-pumping antics. But when does Jersey Shore Family Vacation Season 2 premiere? MTV hasn't announced an official date for its return just yet, but hopefully the next installment isn't too far off.
UPDATE: MTV has announced 'Jersey Shore Family Vacation' Season 2 will premiere in August 2018.
EARLIER: The first season of Family Vacation brought together the memorable Jersey Shore crew (minus Sammi "Sweetheart" Giancola) over five years after the original show wrapped to follow their Miami adventures. So much has changed since their beach house beginnings in 2009 — Nicole "Snooki" Polizzi, Jenni "JWoww" Farley, and "Pauly D" DelVecchio are proud parents these days. Family Vacation chronicled Ronnie Magro coming to terms with a baby on the way and even filmed Mike "The Situation" Sorrentino's sweet proposal to his longtime love Lauren. The close-knit cast may have grown up in a lot of ways, but they're as endlessly entertaining and endearing as ever.
The series is about to air its finale on Thursday, June 28, but clearly fans are thirsty for more already. So, what should viewers know about Season 2 right now?
It's Set in Las Vegas
The cast recently shot in Sin City for Season 2, which makes a lot of sense given the town's raging nightlife scene. Pauly D should feel right at home given he resides there when he's not touring. The international DJ hoped Vegas would be the filming locale, telling E! News, "I'd love them to come where I live. Come to my house, go where I'm DJing or something."
Ronnie also lives in Las Vegas at the moment and he's been embroiled in drama surrounding his tumultuous relationship with his daughter's mother. His ex Jen Harley was reportedly arrested for alleged domestic battery on Monday. It's unclear as to which elements of his personal life will end up on the show at this point.
Jersey has filmed everywhere from the shore to Miami to Italy, so Vegas seems like a natural fit for the series' next location.
The Main Cast is Appearing
From the looks of it, Deena, Mike, Nicole, Jenni, Vinny, and Ronnie are all a part of the second season. Nicole expressed that she was reluctant to do more episodes if the show was filmed outside of New Jersey (where she lives with her husband and two young children), but it appears she came around.
"Season 2, I would like to be home with my children," Nicole aka Snooki revealed to E! News in April. "I don't want to be away from them again. That was like the worst mom guilt I've had in my entire life [while filming Season 1]….If it's like that again I'm pulling out of Season 2. But yeah, being a mother comes first. So, hopefully they will work with me on that."
But will Sammi make a surprise cameo?
"I can almost bet on that. For someone to say no to that this time and then all the media and everybody, all those comments, she must see them, she must want to do it. I gotta say, she must have to want to do the second one," Pauly remarked in March.
There Could Be Wedding Planning
The penultimate season finale revolved around the planning and execution of Mike's romantic proposal to Lauren Pesce, so now that wedding bells are ringing, prepping for the big day is officially on. The Situation revealed he and his fiance are in the "beginning steps" of the process to ET, teasing "I believe so, yeah. I can't say anything, but I already did" when asked if wedding planning would a part of the second season. He also added that Lauren would be back.
Jersey Shore Family Vacation premiered on April 5, and since filming for the second season is underway it's likely fans won't have to wait until next spring for another round of episodes. The cast shot Season 1 in Miami in January, only three months prior to its debut, so here's hoping for a fall or winter release date for Season 2.