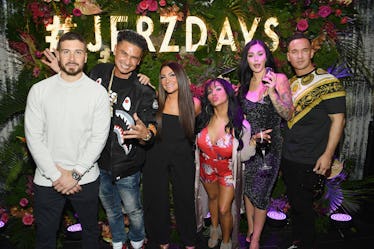 'Jersey Shore: Family Vacation' Is Heading To A New Party City, So Fist Pumps All Around
Dave Kotinsky/Getty Images Entertainment/Getty Images
What happens in Vegas, stays in Vegas — unless, you know, you're one of the cast members of Jersey Shore: Family Vacation. Because as the June 28 finale of Season 1 quickly approaches, roommates Pauly D, The Situation, Snooki, Deena, JWoww, Vinny, and Ronnie are getting ready to start filming Season 2 of their popular unscripted MTV series, and the crew is headed for another major party city. Only this time, it's out on the West Coast. That's right fam, Jersey Shore: Family Vacation Season 2 will film in Vegas, baby! So fist pumps all around.
Can you even imagine the trouble this wolfpack will get up to in Sin City? Once again, they will be staying at a rented house instead of a hotel. And now I just wanna know if it will be Pauly or Ronnie's house, since both of these guys actually live in Vegas. Probably not, but still sounds like ratings gold to me. Seriously, I am so here for this location, and I'm pretty sure Vinny was super hype about it, too. He told Entertainment Weekly back in April that he loves going to cities like Miami and Vegas that are similar to the J. Shore and make the cast feel at home. "Like put us in our habitat," he said. "It's like putting a lion in the jungle and seeing what happens."
I just got really excited for this thing, how about you?
According to Radar Online, Nicole and Jenni flew out to Vegas on a private jet on June 5 to start filming. So bad*ss.
"They are both definitely returning, along with all of the boys," an on-set productions source said, adding that the guys are already there, and that filming started June 6. "They are all super excited for Season 2 and feel like this is going to be the best season yet."
Me too! I just hope they somehow get Mike Tyson's tiger to make a cameo.
And speaking of cameos.... if you watched last's week episode, then you're probably wondering, like I am, if Angelina will be joining the posse in Vegas. Because at the end of that last ep, the former castmate — who split during Season 2 after a nasty fight with The Situation — rolled up to surprise the J. Shore guys while the girls were out visiting their families.
Though she has had no contact with anyone from Jersey Shore since she left the show back in 2010, she quickly made things right with Mike. But she still had to worry about patching things up with Snooki and JWoww, something she told Elite Daily she was especially worried about. "I kept telling my fiancé, 'JWoww is going to beat the sh— out of me,'" she said. "'Jenni's going to kill me. If I don't come home, understand why.' I know she throws fists, so I was like, 'Oh sh—, what if I get into a fistfight with her right now?' She's scary, man!"
ICYMI, JWoww basically gave Angelina a pass. But she also told her she wanted to see if they could be friends outside the show, not on it, and the rest of her castmates backed her up. As for Angelina's response? Well, the episode ended before we got to hear it. So, it looks like we'll have to wait until the next ep airs on June 7 to find out if girlfriend gets the green light to rejoin the crew, in either Miami or Vegas or both. I guess it could go either way. But TBH, all I really care about is whether or not the duck phone makes the cut in for Season 2.