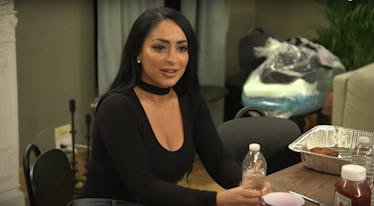 Fans Have One Big Question About Angelina After This Week's 'Jersey Shore Family Vacation' Episode
MTV
The Jersey Shore Family Vacation house just got hit by a Staten Island-sized meteor of drama and controversy. Thursday night's new episode of Jersey Shore Family Vacation was all about Angelina, who surprised everyone (except for self-proclaimed "prank champion" Pauly D) by making her return to the franchise after nearly a decade away from her former castmates. Given her history with everyone, she was not exactly met with open arms, and the episode ends on a cliffhanger leaving viewers wondering one thing: Will Angelina leave Jersey Shore Family Vacation or stay on? It looks like things could go either way at this point.
At the very end of last week's episode, we saw Angelina surprise the guys of the house while the women were all out visiting their families. Surprisingly, Angelina managed to bury the hatchet with Mike "The Situation" pretty quickly and easily, despite the fact that they had one of the nastiest fights in Jersey Shore history back in Season 2, prompting her to leave the show for good. But that was The Situation, not the sobered-up "New Mike" that just sort of lounges around the Family Vacation house muttering about food. So Angelina and Mike were able to settle things without issue, but the real drama started when JWoww and Snooki returned to the house to find Angelina sitting at the dinner table.
Aside from Mike, Angelina clashed more with JWoww and Snooki than anyone else in the Jersey Shore cast back when the show first premiered. In fact, Angelina shared in an interview with me that she was more scared about seeing JWoww again than anyone else, and the new episode definitely revealed why. Both Snooki and JWoww are enraged to see Angelina in the house (the fact that they were drunk when they came home probably didn't help), and immediately started a fight with her. Angelina claimed that she has changed her ways and returned to the cast to try to make peace, but neither JWoww nor Snooki were buying it at all.
The next day, JWoww and Snooki made plans to avoid Angelina that seemed perfectly suited to their personalities: JWoww decided to get her aggression out at a boxing gym and Snooki resolved to disappear into an ocean of alcohol with Deena and Ronnie. But Snooki's plan to steer clear of Angelina fell through when Ronnie invited Angelina to join them at the bar, and Snooki was forced to deal with the Angelina problem head-on. Apparently, the brunt of why Snooki was so angry with Angelina went back to an interview Angelina did with In Touch in 2016 (you can read it here) in which Angelina criticized Snooki's lip injections. After rereading the article a few drinks in, Snooki decided to forgive Angelina and surprisingly, the two became besties again pretty much immediately afterwards.
She may have squashed her beefs with Mike and Snooki, but Angelina's toughest challenge still lay ahead. JWoww was not happy to find out that Snooki and Angelina made up, but agreed to a tense ceasefire between herself and her nemesis in order to keep things relatively peaceful. However, after the rest of the house started growing tired of Angelina, JWoww agreed to be the one to ask her to leave over a fancy dinner.
With everyone gathered around, JWoww told Angelina that she was willing to give her another chance, but not on Jersey Shore Family Vacation. It's a sentiment that the other housemates echoed, saying that they wanted to see if they could still be friends with Angelina outside of the house before bringing her back into the TV show. But, the episode ends before we get to hear Angelina's response! Given that she has actually had a great relationship with everyone over the few days she's been back, Angelina will probably be surprised by being asked to leave. So will she keep her return positive and politely agree to bow out, or will she revert to her old ways and get into another huge fight with JWoww over staying in the house? That's the big question that's making us all pumped for next week's episode of Jersey Shore Family Vacation.