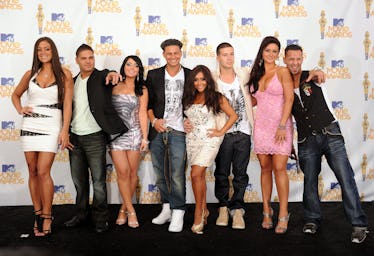 The 'Jersey Shore Family Vacation' Trailer Shows An Ex-Housemate, So Get Ready For Drama
Jason Merritt/Getty Images Entertainment/Getty Images
It's almost T-Shirt time yet again, folks — the Jersey Shore Family Vacation MTV premiere on April 5 is approaching fast. The OG gang's all here (excluding Sammi "Sweetheart," although some fans think she might make a surprise appearance), but what about a certain short-lived cast member? Snooki, JWoww, Vinny, Pauly D, The Situation, and Deena are all jetting to Miami for more fun in the sun, but will Angelina be on Jersey Shore Family Vacation too? The Season 1 cast-off has a rocky reality past when it comes to the Shore family, but it's looking like she'll be getting a second — well, third — shot at connecting with the crew.
MTV teased Angelina's comeback in February via a sneak peek clip of the upcoming reunion series. Mike "The Situation" Sorrentino opens the door to face none-other than the "dirty little hamster" herself (don't worry, she refers to herself that way) and his reaction... is pretty much pure shock. "Who sent you?" he demands, as if this is a dramatic Shakespearean play and not a reality TV show with professional casting directors. Welp, there you have it. Get ready for more Angelina in your lives, Jersey Shore fans.
You may recall Angelina's departure in Season 1 came after she got fired from her gig at the local T-shirt shop. This was a big no-no on the show, because the cast had to keep their jobs to remain in the Shore house. The New York native — who wasn't exactly a hit with the rest of her roommates — said her goodbyes in the third episode only to pop again at the reunion. But that wasn't the end of the turnpike for Angelina. The "Kim Kardashian of Staten Island" re-entered the mix in Season 2, only to leave for good in the tenth episode after drama continued to escalate.
"I don't feel like I ever had a chance, honestly," Angelina told MTV following her second exit. "They say that they gave me a chance, they say that they wanted to let me in, but it was just like a roller coaster."
Angelina's been keeping plenty busy since her debaucherous days in the reality TV spotlight. The former bartender and dental assistant is now an FDNY EMT. Yep.
The 31-year-old tried her hand at a singing career at one point, releasing a rap single called "I'm Hot" in 2010. She later appeared on VH1's Couples Therapy alongside then-boyfriend Chris Nirschel in 2012.
But recent congrats are in order for Angelina — she got engaged to Chris Larangeira in January. The pair has been dating for a little over a year. "I am sooooo excited about becoming a wife and having kids," Pivarnick remarked to ET following the proposal. "We are going to work on [the kids] rather quick."
For now, it's reunion time, baby! MTV just released an extended trailer for Jersey Shore Family Vacation and it looks like one drama-filled doozy of a reunion. The cast sure seems to be having fun. And fighting. And drinking. And repeat.
"I'm 100 percent sure that this is going to be the wildest vacation we've ever had," Snooki teases. Viewers can catch a glimpse of her legendary hair pouf back in all its sky-high glory. She's also arguing with bestie Jenni "JWoww" Farley, which is never something I never want to see. "This is literally gonna f*cking ruin my marriage," Snooki says at one point. Um, things are getting intense. Angelina doesn't get much screen time in the clip, as she only makes a quick entrance in the last few seconds.
Actual footage of me watching this crazy trailer:
Jersey Shore Family Vacation premieres Thursday, Apr. 5 at 8 p.m. on MTV.