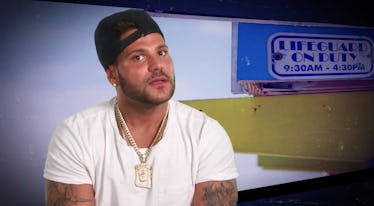 Ronnie Joked About His Ex Allegedly Dragging Him With A Car, So I Guess He's Over It
MTV
A couple weeks ago, it was sounding like the intense, roller-coaster relationship between Jersey Shore star Ronnie Magro-Ortiz and his ex-girlfriend Jen Harley was finally over for good, but now, Ronnie and Jen appear to be hanging out together all the time. Ronnie is even joking about Jen allegedly dragging him with a car on Instagram. So, umm, I guess they are just moving on from that whole domestic battery charge now? Let's break down everything we know about where this volatile couple currently stands.
On June 24, Jen Harley was reportedly arrested on a charge of alleged domestic battery. Harley was allegedly accused of dragging Ronnie Magro-Ortiz with her car after he reportedly got caught in the seatbelt while trying to exit the vehicle. Harley reportedly posted bail and was released, with the district attorney's office reportedly confirming to TMZ that there was insufficient evidence to move forward with a prosecution. Elite Daily reached out to Magro's team for comment on Harley's arrest and the subsequent reports but did not hear back by the time of publication. It definitely seemed like that incident would finally be the last straw for Magro and Harley, who had already been publicly fighting for months prior to the car incident. But no — the former couple (who broke up shortly after their daughter, Ariana Sky, was born in April) is reportedly attempting to move forward and brush past it all.
Magro even seems to be cracking jokes about the car incident now. On Wednesday, July 11, Magro posted what seems to be a clear reference to the alleged car incident with Harley. Magro shared a screenshot of Heath Ledger's Joker saying "Wanna know how I got these scars?," along with his own message: "Life can be a lot of things but never let it be a drag." He concluded the joke-y post by asking "Too soon?" followed by some crying laughing emojis.
It sounds like Magro is not dwelling on the past, and instead may be trying to work things out with his ex. In his follow-up post, Ronnie implored his followers to keep a positive outlook on life.
These posts come about a week after Magro and Ortiz were first seen together after Harley's reported arrest on June 24. On July 4, Magro shared a kissy-faced photo of himself and Harley celebrating the holiday together. Speculation immediately began swirling that the exes had revived their relationship, but TMZ reported that Magro and Harley remain exes and are merely trying to have a civil relationship with one another for the sake of their three-month-old daughter, Ariana Sky. Elite Daily reached out to Magro's team regarding this report but did not hear back by the time of publication.
More recently, Magro and Harley were spotted out to dinner in New Jersey with their daughter and a few friends, and they reportedly seemed cool and collected. Since Jersey Shore Family Vacation Season 2 was recently filming in New Jersey, we might be seeing Magro and Harley together on the MTV reality show when it returns in August. There is speculation that Ronnie and Jen's recent turbulence will be a major storyline in the show's second season, so we could learn a lot more about what is actually going on in their confusing relationship when the season premieres.
The drama between Magro and Ortiz first caught the public's eye back in April, when the new parents lashed out at one another in a series of accusatory social media posts, just a little over a week after their daughter Ariana Sky was born. Elite Daily reached out to Magro's team for comment on the social media posts but did not hear back by the time of publication. The couple broke up shortly after the public fight, but reportedly attempted to co-parent as exes. Now, the exes appear to be working things out much better, which will hopefully last.