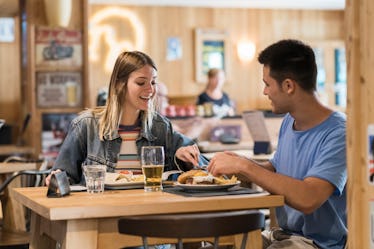 Here's The Surprising Reason You Should Go On A First Date The Night Of The Super Bowl, According To Experts
If your flirting has been widely received and you're trying to win the coin toss with your new crush, you may wonder: Should you go on a first date for the Super Bowl? If grabbing some burgers and beers and tuning into a big game seems right up your alley, it may not be such a bad idea.
"The Super Bowl can be a great first date as some people celebrate as if it's a holiday," Thomas Edwards Jr., dating coach and founder of The Professional Wingman, tells Elite Daily. "For diehard sports fans, this almost guarantees a good time to be had by both people. Of course, if your team is in the big game, it's even better."
From totally pigging out on greasy food, to catching the game at home or exploring a new dive bar — the Super Bowl can be a really sweet and fun first date. And with all the attention on the players, the halftime show, and the commercials, a first date watching the Super Bowl can mean less pressure on you.
If you're trying to end your night with a touchdown dance, here's why the Super Bowl can make for a pretty great first date.