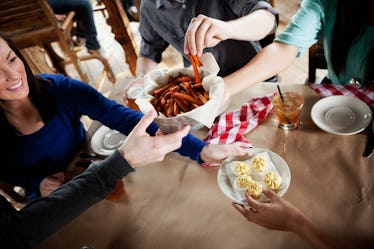 These Easy Super Bowl Appetizers Are A Total Win, Even If Your Team Loses
Raise your hand if you're excited for this year's Super Bowl. Now raise your hand if you are neither a Patriots nor Eagles fan, and are only showing up to your friend's party for the food, because that's basically where I'm at right now. So many things went wrong this season for my Dallas Cowboys, and even though I'll admit I'm mighty bitter about it, easy Super Bowl appetizers I can throw together and indulge in as I eat my feelings through the last four quarters of this pathetic excuse for a football season are what's going to hold me over until August — that, and Justin Timberlake's halftime performance.
Seriously though — and I'm not entirely trying to throw shade here BTW — no one actually cares about this year's Super Bowl unless they're die-hard New England or Philly fans. If you hate the Eagles, you're rooting for the Pats (aka me), and if you hate the Pats, you're rooting for the Eagles. If you couldn't care less, you're rooting for mozzarella sticks, buffalo-coated anything, and an ice cold beer to chase down the painful reality that your team is, yet again, absent from the biggest game of the season. Again, I'm clearly (albeit, shamelessly) bitter.
If you're hosting this year's soirée at your humble abode, or adding to a potluck, here are a few crowd-pleasing appetizers that are easy to make and delicious to eat.