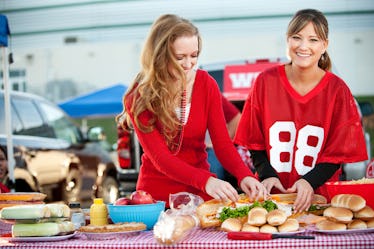 These Vegan Apps Will Definitely Satisfy Your Greasy Cravings During The Super Bowl
Even though this past football season was a complete and utter wash for my Cowboys, I'll still be celebrating my favorite unofficial holiday of the year: Super Bowl Sunday. Super Bowl Sunday is great for typically one of two things: You get to watch your team fight for that shiny Vince Lombardi Trophy, or you have an excuse to pig out on yummy appetizers. Interestingly enough, though, 2017 was the year a large majority of us pledged to become plant-based, so you may just be serving vegan Super Bowl appetizers this year instead of wings and beer to keep things finger-lickin' good, as well as good for you. Score!
Yeah, I know, I'm over the Patriots headlining yet another Super Bowl, too, but once my team isn't in it to win it, I could honestly care less about who's facing off. As long as I've got some booze in my hand and something spicy on my plate, I'm good. Plus, Justin Timberlake is performing at halftime this year, so you know your girl isn't missing the opportunity to watch J.T. bring sexy back on a wide screen. Tom Brady, who?
Now, if this is your first time going into a Super Bowl party plant-based, don't panic; I'm right there with you. I've been vegetarian for almost eight months now, and I still crave extra spicy buffalo wings, miniature hot dogs, and cheeseburger sliders. It's natural to want these types of appetizers if all you've known for the past 20-something years of your life was that football meant snacking on animal meat dressed with dairy on a Sunday night.
Sure, these kinds of foods probably tasted amazing mid-chew, but let's think back to that digestion process. I bet you started feeling pretty sluggish by the third quarter of the game. Keeping it plant-based for your Super Bowl party will ensure you're not falling asleep through the best plays, and it means you can actually enjoy indulging in delicious foods without feeling crummy afterw the fact. Here are a few vegan recipes to add to your game day spread.