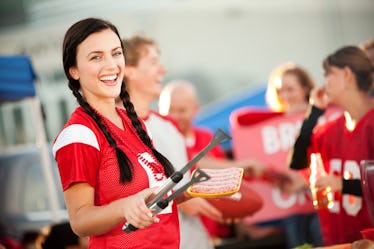 The Super Bowl Is Coming & These Easy Crock-Pot Dips Deserve An Invite To Your Party
Game day — aka, the 52nd Super Bowl — is just around the corner. I'm more than ready to sport my game face, and the themed foods are getting me seriously hyped. I'm sure the game will keep all of us on our toes, but I have to admit — the touchdowns I'm most excited for are the ones where my chips touchdown with some tasty queso dip. That's why you'll score major brownie points with easy dips to make in the Crock-Pot for the party you're hosting or attending this year. You may very well end up being the real MVP among your friends crew.
Take some other game day favorites like pizza and chicken wings, and find a slow cooker recipe that encapsulates all of those amazing flavors into one easy dip. In fact, these tutorials are so easy, you might even want to try to make all nine of these Crock-Pot dips for your Super Bowl party. Your snack table spread will be looking pretty fine, if you ask me.
Set up your dip to cook the day before, so you have something ready to bring to your Super Bowl Party. Or, cook one right before the game, and then have a dip waiting on the bench for after the halftime show. The real Super Bowl will be whatever bowl you put your dip in, amiright?