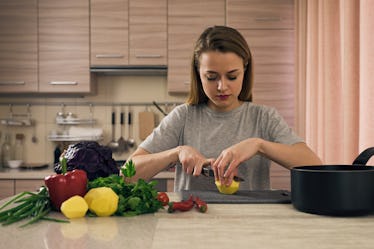 8 Best Crock-Pot Soup Recipes For Every Lazy Girl To Warm Up To This Winter
It's cold outside. Believe me, I totally understand if you're unable to get out of bed in the morning because your blankets are the only thing keeping you from shivering. The struggle is real. It's no wonder why bears go into hibernation during the winter, because we're totally considering it as an option for next year. Soup is a great way to keep warm, but you don't want to be working hard in the kitchen when your bed is calling your name, so we've assembled some of the best Crock-Pot soup recipes for you to make when you're lazy AF and it's too darn cold out.
You have our permission to really dive deep into that laziness you're feeling, because when the temperatures drop, ain't nobody got time for that. A Crock-Pot is great for setting up your meal, and letting it cook on it's own. Actually, a slow cooker is basically the lazy girl's BFF, so here are eight easy Crock-Pot soup recipes you can make with your bestie this winter. You just need to brave the cold for a minute or two while you set up your soup to cook, and then race back to your warm blankets. I truly believe we can all get through this crazy cold winter with our slow cookers by our side.