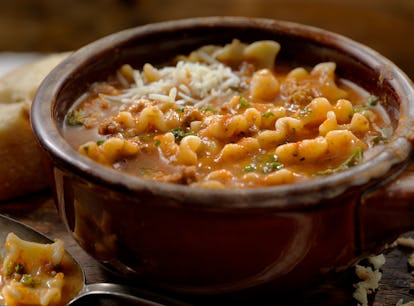 This Viral TikTok Lasagna Soup Recipe Caught SZA's Attention
LauriPatterson/E+/Getty Images
While SZA is currently going head-to-head with Taylor Swift on the Billboard charts, the SOS singer is also looking for recipes in the same place where everyone else is finding their next fave dishes — TikTok. After seeing TikToker @dannylovespasta enjoying a bowl of lasagna soup on the video-sharing platform, SZA commented on his video, "recipe please king." It seems whatever SZA wants, she gets, because @dannylovespasta took no time in showing how to make the lasagna soup recipe on TikTok.
Stars — they're just like us. However, when a celebrity comments on someone's TikTok, it becomes a whole thing. You feel inclined to respond right away, and that's exactly what @dannylovespasta did. After SZA's request, the pasta maker shared a detailed tutorial with a breakdown of the popular lasagna soup recipe and it's actually pretty simple. You can also cook everything in one pot, so clean up is a breeze as well. Basically, it's a lazy gal's dream come true.
And since the winter is perfect soup weather, it doesn't hurt to add an extra easy recipe to your arsenal. In fact, the perfect chilly day calls for making a batch of SZA-approved lasagna soup while listening to her album nonstop — as Swift does.
How To Make Lasagna Soup From TikTok
While the soup itself is easy to make, the ingredients list is a bit long. So, the hardest part may be going to the grocery store to pick up everything you need. It'll help to jot down a list, so be sure to add the following to yours:
An onion (chopped up)
2 cloves of garlic
1/2 lb ground beef
1/2 lb Italian sausage
2 tbsp tomato paste
2 cups marinara sauce
3 cups chicken broth
1/2 cup heavy cream
1/2 box of lasagna noodles
1/2 cup parmesan cheese
1 cup mozzarella cheese
1/4 cup basil
Seasonings
Once you have everything at home, begin making your lasagna soup by sautéing your chopped up onion in a pot. From there, add in your garlic, ground beef, sausage, and whatever seasoning you'd like, which could include salt, pepper, and Italian seasoning. After it's cooked for a bit, add in your tomato paste, marinara sauce, chicken broth, and heavy cream to the same pot. Stir and bring to a boil before you add in your noodles.
You'll want your lasagna noodles to be al dente, so stir occasionally and keep an eye on your soup for around 10 minutes. When your soup is ready, mix in your parmesan and mozzarella so it's extra cheesy and good. Add your soup to a bowl and top off with some fresh basil before digging in.
You could make a whole pot of lasagna soup to enjoy throughout the week — just reheat whatever you don't enjoy right away. While this is the exact recipe from TikToker @dannylovespasta that SZA requested, you can also tweak it a bit for your taste. For instance, sub out the ground beef and sausage while swapping out the chicken broth for veggie broth if you're a vegetarian. If you're looking for a lasagna soup recipe with a kick, you can always add in some red pepper flakes as well. Some recipes also replace the heavy cream for some ricotta cheese, which is what goes in a traditional lasagna. Now that you have the basic recipe to go off of, you can really make whatever soup your heart desires. After all, nothing is impastable when you're live, laugh, lasagna-ing.