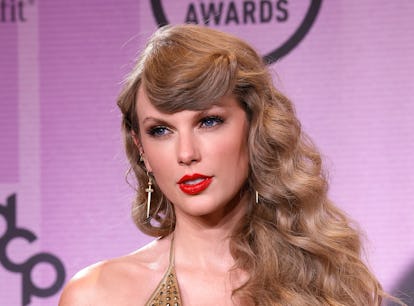 Please Stop Pitting Taylor Swift & SZA Against Each Other
It's nothing but love between them.
Frazer Harrison/Getty Images Entertainment/Getty Images
Here's one rumored feud that needs to end. It's been a tense few weeks for Taylor Swift and SZA stans, especially the competitive ones who care about chart numbers. For several weeks, both artists' singles from their latest albums (SZA's "Kill Bill" and Swift's "Anti-Hero") have been gunning for the top spot on the Billboard Hot 100. Instead of both singers receiving unanimous praise, rumors began circulating they've been feuding behind the scenes. Both SZA and Swift recently put the hearsay to bed, and it's time for stans to follow suit.
On Jan. 17, Swift celebrated her newest achievement for "Anti-Hero." The track became her longest-leading No. 1 release on the Billboard Hot 100, keeping the spot for eight weeks. She gushed over this thrilling accolade on Instagram.
"What on earth, I love you guys," Swift wrote on her Instagram Stories, sharing a Twitter post from Billboard announcing her eight-week crown.
The Midnights singer also included a sweet shoutout to SZA and her latest record, SOS. "PS - Been listening to @SZA's album nonstop. Absolutely adore her music. So much love and respect for her!!" she said.
The same day, SZA also rejoiced in her single "Kill Bill" ranking in second on the aforementioned chart on her Instagram Stories. She then paused to repost Swift's message and even thanked Swift for the accomplishment. "Thank you so much, your album and writing is phenomenal," the SOS singer wrote on Instagram. "As always."
This isn't the only time SZA shared her appreciation for Swift's work amid this faux chart-topping feud. A few weeks earlier, on Jan. 6, SZA thanked her fans for purchasing digital versions of certain tracks on her album on Twitter.
"thank you for STREAMING SOS And copping [digital versions]," she wrote on Twitter at the time. "Thank you CAMP for always DOING YOUR BIG ONE [...] LOVE TO EVERYONE."
It seems several Swifties weren't here for the uptick in SZA's digital sales. According to People, several Swift stans alleged SZA was looking to outperform Midnights with these new sales. However, the "Ghost In The Machine" singer had to clarify that she doesn't have beef with Swift.
"Uhh I feel silly that I even have to say this but i see supporters arguing and I hate that . I don't have beef w ANYONE especially not Taylor lmao I genuinely loved her album and the writing!Everyone's jus tryna do their BEST as we all should ," SZA wrote.
It's disheartening to see two artists having to interject their own accomplishments with disclaimers. There's always room at the top for icons — a reality some stans forget once numbers and record-breaking titles are involved.