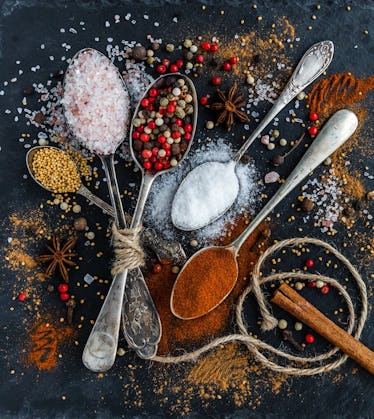 5 Thanksgiving Desserts For The Crock-Pot That Everyone Will Gobble Up
Some, it seems, are born with the ability to cook, while others work hard at perfecting the talent. Then, you have someone like me who will burn water (which is a joke... but at the same time, not far from the truth). So I try and stick to the basics, and going anywhere near a stove with the intention to cook is a big deal for me. Any recipe with the term "easy" used to describe it is going at the top of my list of things to try. But, if you have a Crock-Pot, it'll make things a lot simpler (which I am all here for). These easy dessert Crock-Pot recipes for Thanksgiving will not only impress your relatives, but yourself as well.
Thanksgiving can be daunting if you lack skills in the kitchen, because you're damned if you do, damned if you don't. If you do, you may very well serve your fam overcooked pumpkin pie. If you don't, someone's probably going to call you out on it.
That's why Crock-Pots are the sh*t. They're relatively safe to use, and also allow you to not be super precise. You kind of just throw everything in and voila. You have a scrumptious dessert that will satisfy the pickiest of eaters. Here are some delicious tutorials to try out in the Crock-Pot this holiday.