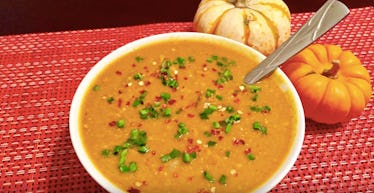 7 Easy Crock-Pot Pumpkin Recipes That'll Save You The Stress In The Kitchen This Thanksgiving
Thanksgiving truly is a wonderful holiday to spend catching up with family and eating the most amazing food. But, it also has a tendency to get real stressful, real fast. Getting the whole family together again means a fight or two is bound to happen, and there's also the craziness of everyone in the kitchen at one time trying to cook. Luckily, you can fix one of those two things using a few simple (and delicious) easy Crock-Pot pumpkin recipes.
Crock-Pots are one of the best kitchen traditions. You know your parents use one and swear by it, but you probably never really pictured yourself using one. All you really need to do is pick out a yummy recipe, and throw a bunch of ingredients into the pot before running out the door for work. It's as simple as that.
If you don't have a lot of free time to spend in the kitchen cooking during the week, slow cookers are actual lifesavers. There's almost nothing better than coming home to a warm meal already made and having that amazing homemade dinner aroma throughout the house. You just feel like you've got it together after that. So, when you're assigned a dish to bring to family Thanksgiving this year, don't freak. You've got a powerful sidekick to help out, aka your Crock-Pot, along with these seven amazing pumpkin recipes.