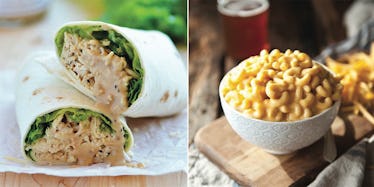 25 Insanely Delicious And Easy Meals You Can Make In A Crock-Pot (Photos)
Life In The Lofthouse/eHow
When it comes to whipping up a tasty home-cooked meal, unfortunately, not all of us are blessed with the culinary abilities of a five star chef.
In fact, I'm normally pretty proud of myself if I can manage to make simple things like pizza bagels without starting a fire in my kitchen (because yes, I've actually almost burned the house down making those damn things on more than one occasion).
Yep, cooking is actually pretty f*cking hard.
But luckily, there are kitchen gadgets out there like crock-pots that allow even the most unskilled chefs to make a decent meal.
Because let's face it, all you have to do is basically throw a bunch of things in a pot and let that slow cooker do the rest of the work for you.
Plus, the things you can make with one of these bad boys goes way beyond soup and pot roast.
From breakfast dishes and lunches to all sorts of dinners and even dessert, the crock-pot possibilities are pretty much endless.
So in order to help you step up your cooking game, we set out to find a bunch of slow cooker recipes that are not only delicious but insanely easy to pull off.
Take a look at the pictures below to see all the things you never knew you could make with a crock-pot.
Banana French Toast
Vanilla Bean Steel Cut Oatmeal
Veggie Omlette
Coconut and Strawberry Steel Cut Oats
Cinnamon Rolls
Breakfast Cassarole
Tuscan Sausage and White Bean Ragu with Buttered Gnocchi
Chicken Burrito Bowls
Honey Sesame Chicken
Pot Roast with Gravy
Carne Asada Nachos
Beer Mac and Cheese
Poached Salmon
Chicken Ceasar Wraps
Butternut Squash Soup wit Roasted Maple Chickpeas
Skinny Veggie Lasagna
Mexican Quinoa
Chicken Marsala
Quinoa Black Bean Stuffed Peppers
Shredded Beef Ragu Pasta
Chocolate Turtle Bread Pudding
S'mores Cookie Bars
Pumpkin Cobbler
Triple Chocolate Brownies
Cheesecake in a Jar