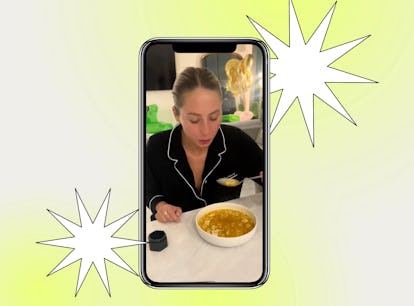 I Tried Alix Earle's Chicken Soup Recipe With Blended Veggies
For when you're feeling "unwell."
Alix Earle may be most known for her GRWM videos and going on viral brand trips around the globe, but the TikToker has also dipped her toes into the foodie side of TikTok as well. Her 12 out of 10 beef taco recipe is a must for cozy date nights at home, but if you're feeling a little under the weather, Earle's chicken noodle soup recipe can help you feel better. Of course, traditional chicken noodle soup is a basic recipe that most beginners are familiar with, but after feeling unwell all week, the 22-year-old content creator decided to switch it up with her method that involves blending the vegetables.
The self-described "soup girl," who posted this chicken soup recipe on Sept. 20, says that having your celery, carrots, and onions blended adds something to the broth to "make it so much yummier." Since I've never seen blended chicken noodle soup before, I just had to try this recipe for myself, even though I wasn't feeling under the weather like Earle was. With the fall season bringing chillier days, you could say it's soup season. And whether you're feeling unwell like Earle or just looking for something cozy to eat as you rewatch Gilmore Girls, it helps to have a chicken noodle soup recipe in your back pocket to pull out whenever.
To make Earle's chicken noodle soup recipe, you need the following ingredients:
Chicken
Elbow noodles
Carrots
Celery
An onion
Chicken broth
Garlic salt
Pepper
Unfortunately, Earle doesn't share exact measurements in her cooking video, so there was some guesswork that had to be done to make this soup at home. You want to start out by cooking your chicken in a pan, while chopping up your celery. Earle doesn't share how long she cooks her chicken, but I just made sure it was done all the way through. Her chicken was just slightly brown, which she chopped into pieces to throw into the broth later on. For the celery, Earle also doesn't share how many stalks she uses, but it appears to be two that she chops into bite-sized pieces. The size doesn't really matter as long as it can fit into your blender later with the carrots and onion.
Actually, the celery was the only veggie that Earle actually cut up. She left the onion and carrots whole, and placed them in the chicken broth along with the celery and garlic salt. Once the chicken is cooked and celery is chopped, Earle adds the veggies — the celery, about two whole carrots, and one full onion — to a pot with the broth and brings it to a boil. Once it's boiling, Earle says to "let it sit for like 45 minutes."
During that time, cook your elbow noodles. This is also when you can slice your chicken into pieces, if you haven't already. When your timer goes off, take your vegetables out of the broth and place them into your blender with some of the chicken broth. Earle uses a single serve nutribullet ($120, Williams Sonoma), so you don't need a massive blender if you live in a small apartment or dorm room. However, it was a bit difficult fitting all my veggies into my nutribullet. It looks like even Earle needed to cut up her carrots and onion to fit it all into her blender. Luckily, it's easier to chop your veggies now that they have been boiled.
Once everything is blended up in a nice orange mash, that goes back into the broth along with your chicken pieces and noodles. Earle then says to let your soup sit for a minute and cool down a bit, so it "blends all together." When serving your chicken noodle soup, Earle also recommends adding some pepper on top. Her final review of the chicken noodle soup is just an enthusiastic "yum."
One of my favorite things about chicken noodle soup is all of the chopped-up vegetables. While you still have the elbow noodles and chicken for added texture in this recipe, I was initially unsure about Earle's chicken noodle soup because it seemed boring without the spoonfuls of veggies.
Alix Earle's Chicken Noodle Soup Recipe
As much as I love Earle, it's time to normalize adding a full recipe in the caption or comments when sharing a cooking video. Since I was just guessing, I think I made the exact same chicken noodle soup as her but I'm also worried my veggie ratio was a bit off. Using an entire onion was too much and overpowered a lot of the flavor. I also have acid reflux, and I was worried using an entire onion plus garlic would make things work if I was sick and my throat was sore. Next time, I will definitely be using less onion and more carrots and celery.
Speaking of the celery, you lose a lot of it when you blend it up with everything else. On its own, celery doesn't add a lot of flavor, but when you can see it in the soup, it's almost like you can taste it more. For that reason, I could have left out the celery and wouldn't notice a difference in flavor.
As a content creator, Earle knows a thing or two about what's Insta-worthy, so I did enjoy the orange color the carrots added to the soup when blended. It made the final product very on-theme for the fall. Blending also made the soup heartier and thicker like a tomato or butternut squash soup. I also didn't find it boring, which is what I was worried about. The texture instead reminded me of one of my favorite soups: a split pea soup with ham.
Overall, this was a good chicken noodle soup. There are some things I would personally change if I needed a good soup (as Adam Driver would say) to help me when I'm sick, but the method of blending was fun and different. Sometimes, you need to spice things up in the kitchen to make things more interesting, so if you want to try Alix Earle's blended chicken noodle soup, now is the perfect time to do it.