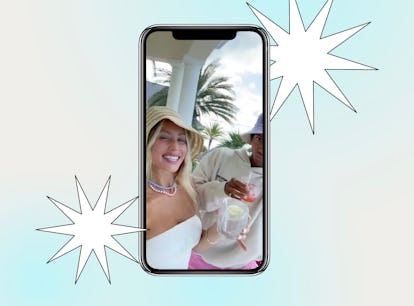 Where Is Tarte's Turks & Caicos Influencer Trip? It's A Royal Stay
Alix Earle and Meredith Duxbury are trippin' with Tarte again.
It seems like just yesterday TikTok's FYP was filled with GRWM videos from Alix Earle, Meredith Duxbury, and other influencers on Tarte's viral "Dubai" trip. The brand trip went from enviable to controversial as many people wondered how in the heck Tarte was able to afford everything. Creators were not only treated to a ton of Tarte products to take home with them and a packed itinerary that included camel rides and a pool party, but they were also given the keys to their very own suites at The Ritz-Carlton. The pool villas that both Earle and Duxbury stayed in started at $954 a night.
At the time, Tarte laughed off the critics with a few of their own LOL-worthy TikTok videos, and now, the company is flying out creators like Earle, Duxbury, the Mian Twins, and Stassie on another brand trip. This time, influencers are jetting out to Turks and Caicos to a former celeb's beach home for a tropical getaway, according to press materials.
The Tarte Island trip is calling pop star Prince's former estate — Emara — their home, and you can book a trip there as well.
The estate formerly known as Prince's sits on the Turtle Tail peninsula of Providenciales, which is a Turks and Caicos island. It has Prince touches like a purple driveway and its own white sand beach, which is sure to be featured in the back of many Insta pics taken by Tarte's invited influencers. The 20,000 square foot home is also split into two different villas — Emara East and Emara West. Each villa has its own entertainment area and tiered pool, which is sure to be a hot spot for the TikTokers.
On top of what's already available at Emara, influencers will also be treated to their very own celebrity private chef, Adrian Forte, who will be available 24/7, according to press materials. The schedule will also include morning yoga with a celeb instructor, IV drips, massages, and products waiting for each creator in their room. On top of that, a celeb DJ will be on site to spin hits by the pool, and the most surprising of all, puppies. That's right, puppies are making an appearance at this trippin' with Tarte adventure.
Recently, Alicia Keys celebrated her birthday at Emara, so it's a celebrity vacay hot spot, but if you save enough, you can stay here as well. A stay at Emara from January to the end of May is $16,000 a night if you're booking both Emara East and Emara West. Just one villa is $14,000 so at that rate, you might as well book both, right? You also must book a minumum of at least five nights, so it looks like Tarte is budgeting at least $80,000 on their stay alone, without factoring in all the amenities, products, and puppies.
If TikTokers were concerned about Tarte's budget and marketing team during the "Dubai" trip, it's clear from this Turks and Caicos getaway that they're continuing to lean into the creator trips.