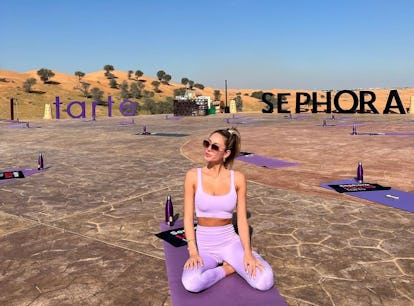 Tarte's "Dubai" Influencer Trip Wasn't Actually In Dubai After All
No, Beyoncé and Alix Earle were not in the same place.
By now, you've likely seen the viral Tarte Dubai influencer trip on your TikTok FYP. Whether you've come across a GRWM video from one of the influencers or a video from another TikToker complaining about the trip's budget or lack of diversity, Tarte did exactly what it wanted to do with this trip: they got people talking about their brand. Surprisingly enough for all the hype surrounding the getaway, it turns out that Tarte's "Dubai" influencer trip wasn't actually in Dubai after all.
Dubai is one of the most popular cities in the United Arab Emirates. It's known for its luxury experiences and modern skyscrapers, which isn't exactly what you may have seen in the background while watching a few TikToks of the influencers on the Tarte Dubai trip. Instead of a bustling cityscape, their locale featured a desert landscape with rolling sand dunes and camels. It turns out that that's because they weren't actually in Dubai during their trip. Sure, most of the content creators touched down in Dubai after their business class flights to the UAE. However, after getting off the plane, many of them then traveled straight to the actual location of the influencer trip, which is over an hour away from Dubai.
Where Was Tarte's 2023 Beauty Influencer Trip?
The Tarte Dubai trip, which has amassed over 130M views on TikTok, should have actually been named the Tarte Ras al Khaimah trip, because that's actually where the influencers on the press trip spent their two-day vacay. It may be confusing for anyone who hasn't been to the UAE before, so let's break it down. Dubai is the city and emirate where Beyoncé just had her first show in four years at the opening of the new Atlantis The Royal Resort. Ras al Khaimah is the northernmost emirate of the UAE, which is roughly 70 miles away. It's like talking about two different states in the U.S.
Whether it's because Dubai is a more popular destination or has less characters for a hashtag, Tarte chose to label their trip's location as Dubai. However, if they wanted to be completely transparent, they should have labeled it #TrippinWithTarte in Ras al Khaimah. While it wasn't in Dubai, the location of the Tarte trip was ultra luxe, as the influencers and their plus ones spent most of their time at The Ritz-Carlton in Ras Al Khaimah, Al Wadi Desert. Beauty influencers on the trip, like Alix Earle, Monet McMichael, and the Mian Twins, all shared room tours of their tented pool villas at the resort that came with not only their own private pools, but makeup vanities and luxurious bathtubs as well.
Money was definitely a topic of discussion for the Tarte "Dubai" influencer trip. The tented pool villas at The Ritz-Carlton alone start around $954 a night. For each of the influencers to stay in these villas for three nights is around $3,000 each and that's not including airfare, excursions, and all the freebies they received in their rooms. Some people criticized the trip for being tone deaf during a time when inflation is affecting many Americans, calling out Tarte for the extravagance of the getaway. In response, Tarte's CEO, Maureen Kelly, spoke to Glossy about the company's decision to put their marketing budget into this influencer press trip.
While not revealing how much Tarte actually spent on the trip, Kelly said, "Every day, brands make decisions about how to spend their marketing budgets. For some companies, that means a huge Super Bowl commercial or a multi-million-dollar contract with a famous athlete or celeb. We've never done traditional advertising, and instead we invest in building relationships and building up communities." Think of this trip as Tarte's Super Bowl commercial. Not only is it expensive, but it has brought attention to the Tarte brand the same way a Pepsi ad or Budweiser spot would.
Kelly also mentioned that unlike some budget breakdowns TikTokers have done online, Tarte did not pay these influencers to post about the trip or to even go on it. "We don't require anything nor do we pay anyone to attend," Kelly shared. Instead, they were "paid" in the experiences, which included the villas, business class flights, free wardrobe, makeup, camel rides, and exclusivity.
Tarte's 2023 influencer trip did come with a significant amount of backlash, but at the end of the day, it did its job of getting Tarte to the top of the FYP. It may have even sparked your interest in traveling to the United Arab Emirates. While it's not Dubai, Ras al Khaimah is a bucket list-worthy destination that should go on your wanderlust list. The Ritz-Carlton where the Tarte trip took place is worth a visit alone for its Insta-worthy villas, relaxing spa, and gorgeous views of the desert. Even if your room doesn't come with a bunch of free Tarte products, you can relax by the pool or go out and explore on a camel-riding excursion.