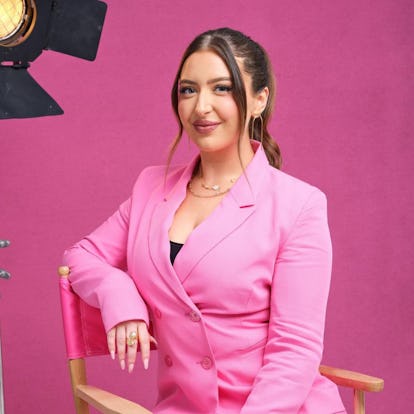 Alix Earle's MUA Shares The TikTok Beauty Hack You're Doing Wrong
Alexis Oakley has been the It Girl's makeup guru for years, and she's ready to highlight her fave ~lewks~.
Interview by Jess Ferguson
Benefit Cosmetics
We may receive a portion of sales if you purchase a product through a link in this article.
A lot of influencers are known for their full-face glam. Exhibit A: Alix Earle. Oftentimes, she'll post makeup tutorials and GRWM videos detailing how to achieve her incredible beauty looks. But did you know that some of her most iconic full beats weren't created with her own two hands? When she isn't rushing to get ready before a night out in Miami or Turks & Caicos, Earle usually enlists celebrity makeup artist Alexis Oakley to work her magic. She's actually the visionary behind the TikTok star's edgy Coachella looks, Brittany Mahomes' Met Gala glam, and Tana Mongeau's endlessly creative Halloween makeup, to name a few. So there really is no one better to talk to about all things beauty.
The Los Angeles-based MUA has amassed nearly 400,000 followers across TikTok and Instagram, where she shares behind-the-scenes content and pics of stars from her famous roster including Avril Lavigne, Olivia Jade, and Kris Jenner. She also shares her best tips for makeup artistry, like what she brings in her travel kit. Most recently, the 25-year-old collaborated with Benefit Cosmetics on the brand's new "Bronze and Glow Like a Pro" campaign, where she demonstrates skin-centric techniques and products she uses on both herself and her clients, perfect for the summer months ahead.
Since real ones don't gatekeep, Oakley chatted with Elite Daily about how to actually apply bronzer (don't listen to TikTok, people!), the products she always keeps in her purse, plus her fave looks she's created for TikTok's reigning queen.
This interview has been edited and condensed for clarity.
Elite Daily: Congrats on your partnership with Benefit! Can you share how you're working together?
Alexis Oakley: Benefit was actually one of the first brands that I ever got introduced to when I was starting my makeup journey, so it's so full circle to be able to have this partnership with them. We've got to show some of the products and how I use them in my kit as a celebrity makeup artist, and some of the tips and tricks that not everyone would know, do body glow makeup, and how to properly contour your face on all face shapes. It's been really fun.
ED: Summer is all about glowy, bronzy skin. What are your best tricks for achieving this look?
AO: My favorite technique is all about high placement; I always like to apply my bronzer higher than I feel like you typically would. On TikTok, I'm seeing a lot of people apply it underneath their cheekbones, where as a celebrity makeup artist, I love to apply it directly on top of my cheekbone because I feel like that's what's really going to help to lift and snatch your face. Same with the highlighter; everyone always applies it kind of right behind the apple of their cheek, whereas I like to apply it directly underneath the eye because I feel like it just helps to brighten and lift everything.
ED: Benefit's Hoola Bronzer has been a mainstay since the early '00s. Why do you think it has remained such a holy-grail product?
AO: The product speaks for itself because it's so good. It blends out amazing, it looks great in all lighting, the shade range is great, and I love the extensions that they've done, with Hoola Caramel and things like that, because it works on all skin types. It doesn't matter your undertone, your shade, it's such a cult classic, and it looks great on everyone.
ED: Are there any underrated Y2K products you'd like to see get the viral treatment?
AO: Pops of color on the eyes are coming back, which I really love. Olivia Rodrigo kind of paved that in a new way, because she is so Y2K. Bronzer is also coming back now, but in more of an elevated way, because I feel like back in the day, it was just big brush vibes, bronze the whole face, super tan. Now, it's all about structure and using that to truly contour and shape the face.
ED: You're always on top of TikTok beauty trends. What are your absolute faves right now?
AO: I love that blush is having a moment. When I first started in 2016, I was so anti-blush. All I did was bronzer and highlighter. Now, I love blush, and it's so great too, because Benefit has so many amazing blushes. A huge part of our campaign was showing how to use the blushes, whether it be TikTok trends and apply it in the W across the face, or that sunset ombre blush, where you would start with a lighter shade on the apple of the cheek, and then work your way up and fade into this beautiful ombre darker shade.
ED: And which trends need to go?
AO: I'm over these "hacks" that I'm seeing on TikTok. Some of them are great — I love underpainting — but then these ones where it's using the paper to contour your nose and things like that, it's just unnecessary steps. Sometimes, people try and overcomplicate things on TikTok, where I'm all about going to the basics, keeping things simple, finding multi-use products. Quick, easy glam is my vibe.
ED: Someone who's no stranger to going viral is Alix Earle. Do you have any go-to products you use for her?
AO: We love to switch it up, and I'm trying to get her out of her comfort zone. That's definitely always what I try to work with whenever it comes to clients. I have such great relationships with my girls, where we'll start, and they'll be like, "I just want bronzy, simple." Then over time, we'll do a graphic liner, more of an intense blush, or a lip. But I definitely have my staples in my kit; Hoola Bronzer is one. The Dandelion Blush is one of my favorites, too; it's a gorgeous light pale pink shade and looks good on everyone.
ED: What are your top three favorite looks you've created for her?
AO: I love the look that we did for Coachella with the really intense black eyeliner. So many people recreated it after. It's not an intense overall look at all, but because it was her, it was so different and out there.
I also love the first glam that we ever did. It was pretty much an exact copy of her everyday makeup that she does, but just a more elevated version. I did some of those techniques that I've talked about, where it's all about lifting the face and the ombre blush. We added a few individual lashes to help lift the eye, and it made such a difference.
A third look that we did was another Coachella look. We actually did kind of an open-ended eyeliner. It was still a graphic eye, where the liner came up out of the crease and then connected into a typical winged liner, and it looked so pretty and helped to open her eyes so much, which she's all about obviously, because she's known for the white eyeliner.
ED: Her Coachella look was straight fire. With festival season in full swing, what are some trends you've been noticing that should inspire our readers' own #festivalSZN looks?
AO: Last year, everyone was all about the Euphoria makeup, but almost to an extreme. This year, people are still using the rhinestones or pops of color, but the Euphoria makeup is a more toned-down, wearable version. That's kind of what Alix and I channeled, too.
ED: A lot of people only see glam, but you've documented some "not so glamorous" bits behind the scenes. Have you ever experienced any makeup mishaps before or after a big event?
AO: Oh, my God, absolutely. I remember one of the first times that this happened, it was a Halloween shoot with Tana Mongeau. She was being Tiger King's Carole Baskin. We were doing her glam, we're an hour and a half late for this photo shoot already, and then it was an hour away from where she lives. So she was like, "We're going to have to do this on the road, in a Sprinter van." So just imagine a Sprinter van going down a hill. It's shaking, there are so many people, blasting music, and I'm trying to do a cheetah-print eye on her.
We ended up getting there, the shoot looked amazing, and it's still one of my favorite looks on her because it was just so fun. Honestly, in the moment, things like that seem hectic and stressful. But then you look back and laugh about it later, and you're like, "That was one of my favorite things."
ED: You also showed off all the items you have to pack when you're traveling for work. What are three products that are always in your purse?
AO: An eyelash curler, for sure, because even if you don't have mascara, that makes such a big difference in just opening your eyes. I always have Benetint too, because I feel like even if you're not wearing makeup, you just put a little Benetint on the cheeks and the lips and you look like a cute clean girl. And then Benefit's 24-Hour Brow Setter because, again, it just helps to lift the face and make you look put together.
ED: What advice do you have for fellow makeup-obsessed Gen-Zers who are looking to enter the beauty industry?
AO: Don't be scared to put yourself out there. I really used social media as a marketing tool; I posted my work on Instagram and then would just DM people constantly, like, "Hey, bestie, I'll do your glam for free in exchange for an Instagram story tag." That's actually how I started working with Alix and Brittany Mahomes. If you get a no, you're asking the wrong person. I've heard more nos than I have yeses — you can't let it get you down. And honestly, you might just not be ready yet. I got nos from a few people when I first started, and now, they're my clients. I know if I would've glammed them five years ago when I thought I was ready, I definitely wasn't. Everything happens for a reason, and just keep fighting and don't let it ruin your self-esteem.