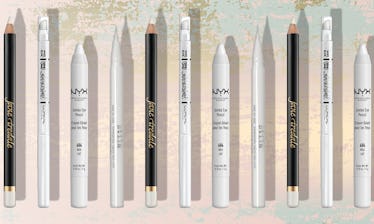 White Eyeliner Is The Makeup Trend To Try Now — & These Are The Best Ones
Elite Daily/Amazon
White eyeliner may not be as versatile as a classic black or brown pencil, but that doesn't mean it should be underestimated as a makeup bag-staple. In fact, for many makeup artists, it's the key to making clients' eyes pop and creating intricate eye looks. But before breaking down the best white eyeliners, here's a quick rundown on the many ways you can use this multi-tasking must-have.
The easiest and most common way to wear white eyeliner is along your lower waterline. This technique can help your eyes look brighter, bigger, and even more awake when things like a lack of sleep and allergies get in the way. Try gliding a white pencil along your waterline and extending it into the inner corners of your eyes (in a small V shape) to enhance the brightening effect. Or, you can solely apply the liner at the inner corners of your eyes for a more subtle brightening effect. Even if you're rocking a thick, black cat eye or smudgy smoky eye, applying white eyeliner using this method will make your look pop all the more.
White eyeliner lets you venture into bolder beauty territory, too. Not to mention, it's become increasingly popular on the red carpet. Use a liquid version to create ultra-sharp cat eye that won't budge, or really shake things up with more graphic looks, like a floating crease line.
Ahead, find five of the best white eyeliners to add to your kit now