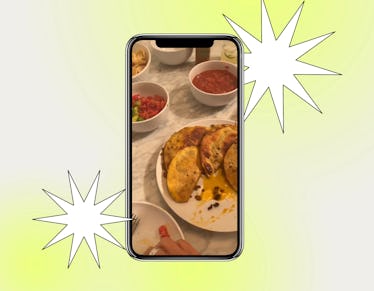 Alix Earle's Taco Recipe On TikTok Is Inspired By A Viral Dish
Earle says these "greasy and delicious" tacos are a game-changer.
Alix Earle may be best known as the current "it girlie" of beauty influencers, but she shares so much more than the perfect glow serum or waterproof mascara with her followers. Earle also knows how to make a mean taco for date night, and she isn't gate-keeping the recipe. Detailed in a vlog shared to her TikTok, Alix Earle's beef taco recipe uses ground beef, red onions, bell peppers, cayenne, paprika, adobo seasoning, cilantro, and olive oil.
While those may seem like very basic taco ingredients, the end result is some bussin' crispy tacos that kind of look like the birria tacos that have been all over the FYP. Earle makes these tacos with her boyfriend for date night, but they're an easy recipe you can follow for any Taco Tuesday. Not only are they quick to whip up, but they're also tasty AF. Earle says what makes these tacos so good is that they're "drenched in oil," ensuring that they're "so greasy and delicious." Basically, you'll be craving these tacos after a late night out with your besties, and the experience of making your tacos your own with different sides can be a fun girls' night in activity right before watching your fave rom-com.
Alix Earle's Taco Recipe On TikTok
The first thing Earle does when making tacos at home is to mix up some spicy margaritas. While this is not technically a part of the taco recipe, it does spice things up for taco night. As you're sipping on your homemade margs, gather your taco ingredients. Earle makes beef tacos, but you can always sub the ground beef for chicken or vegan chorizo. If you're keeping it the same, here are the ingredients you'll need:
Ground beef
Red onions
Bell peppers
Cayenne
Paprika
Adobo seasoning
Cilantro
Olive oil
Tortillas
Shredded cheese
Salsa
Tomatoes
In one skillet, cook the ground beef to your liking. At the same time, you'll be heating up your red onions and bell peppers with the cilantro, cayenne, paprika, and adobo seasoning in another pan. Once your beef is good to go, mix in your red onions and peppers. With the now empty second skillet, place some oil in the pan and add your tortilla on top. Sprinkle on some shredded cheese to half the tortilla and top off with some of the beef. Fold over the other side of tortilla and cook on either side till golden brown. Try not to burn your tacos like Earle's boyfriend does — unless you like them extra crispy.
While that's all happening, Earle is getting the sides ready for the tacos. You can include any sides you enjoy, like sour cream, salsa, hot sauce, guacamole, jalapeños, or extra cheese. From Earle's TikTok, however, it looks like she chose bell peppers, tomatoes, and both salsa verde and red salsa for her sides. These tacos, honestly, look like the viral birria tacos that can be seen all over the FYP. You can also hop on the TikTok birria train by making birria consomé to dip your tacos into.
If you're making this recipe for a girls' night, a cute idea is to set up a sides bar. It'll be like having your own Chipotle assembly line at home, and as your friends go down the line, they can add whatever sides their heart desires. You could even film your own taco vlog like Earle to inspire other TikTokers and give them something to taco 'bout.