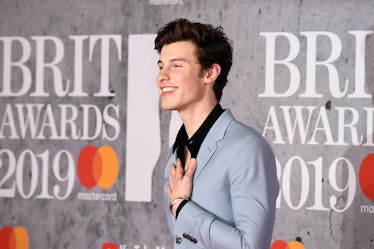 Shawn Mendes' Song Lyrics About Love Are Absolutely Swoon-Worthy
Jeff Spicer/Getty Images Entertainment/Getty Images
If there's any artist today that has the whole sexy-but-sweet thing totally down, it's Shawn Mendes. It's so easy to love him when he comes off as such a sweetheart, cares deeply about activism (see: his music video for "Youth" with Khalid), and is so vocal about the importance of mental health. (He's opened up about his anxiety in interviews, as well as on "In My Blood.") But it's just as easy to recognize he's a certified heartthrob, especially when some of his tracks are so sexy. When it comes to Shawn Mendes song lyrics about love — both the sweet and spicy aspects — it's no surprise the Canadian singer-songwriter has more than a few good bops.
For example, Mendes straight-up tells his crush that she should be with him on "Treat You Better," singing, "I know I can treat you better than he can / And any girl like you deserves a gentleman." More on the cute side, "Nervous" is literally just about being nervous when you're in the same room as your crush: "All you did was look my way / And my heart started to race / And my hands started to shake." And then, Mendes has songs like "Particular Taste," where he sings about being attracted to "bad" girls (possibly with a kinky side): "She'll take your name and number / Then she'll hit erase and walk away / But ooh, she's so specific when she's at my place."
Mendes' songs contain as many multitudes as love itself. Here are five more solid Mendes lyrics about sex and romance that'll put butterflies in your belly and send a tingle down your spine.