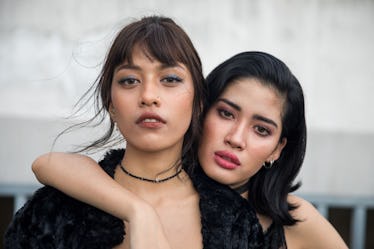 If Someone's Not Ready To DTR, You'll Notice These 4 Behaviors
Imagine this: You've been casually seeing someone for an extended period of time, going on dates or at least "hanging out" and having sex. You get the warm fuzzies when you think about them, and you have reason to believe that they like you too, but you haven't put a label on this "thing" you've got going on. If you want to, but you're not sure if they feel the same way, there are certain behaviors that mean someone's not ready to define the relationship (DTR) you might be able to pick up on.
Relationship coach Miku, who runs relationship coaching company Love Notes by M, says there could be a couple of reasons why someone might not want to DTR. Turns out, it's less about the duration of your situationship and more about the depth. "It could be that they don't believe they know you well enough. Some individuals take longer to assess and feel comfortable DTR-ing," Miku tells Elite Daily. "It's extremely common that two people are not on the exact same page,"
And sometimes, especially if it's early on, that's OK! What may not be OK is when you've done what feels like a lot of getting to know each other, and your relationship still isn't where you want it to be. Here are five signs that the other person might not be ready to define the relationship, why that may be, and what you can do to address it.