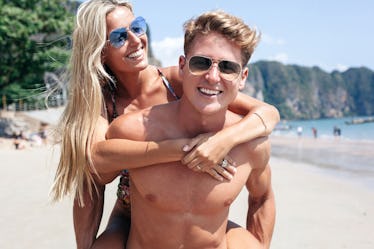 4 Questions To Ask Your Summer Fling & Get On The Same Page
Nothing's more fun than a solid summer fling who keeps you wanting more. Having someone who's down to hang out and consistently hookup during the warmer months is usually the perfect situationship when you're not looking for something serious. However, we all know how the story goes. Sometimes, your feels start to make you wonder if your casual summer bae could turn into something more serious. Once you start to see relationship potential, there are some questions to ask your summer fling that can help you suss out if you're on the same page.
It's no secret that starting a conversation about an undefined relationship can be really scary, especially if your feelings have gotten strong. But don't fret. The purpose of the conversation shouldn't be to push for a commitment, but rather, to see where their feelings are. "The conversation should have a natural flow to see if you're on the same page about how you're feeling... to take it a step up, and not for the purposes of planning your entire future together, or not," online dating expert Julie Spira previously told Elite Daily. "That can kill a relationship and send someone running for the hills." So, keeping the conversation vibe relaxed and avoiding unnecessary pressure is key. Here are some questions you can ask someone you've been casually seeing, to gauge how they're feeling about a potential relationship.