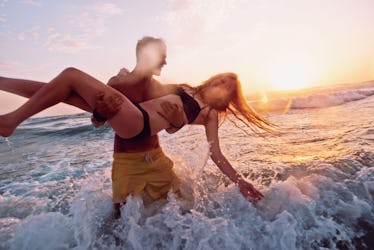 10 Signs Your Summer Fling Wants To Make Your Relationship Official This Fall
I've been rushing around lately wondering how it's already August?! I'm getting the same feeling I do on Sunday afternoons when it starts to dawn on me that Monday is about to happen. August reminds me that summer is almost over, which is a bummer. That's why I'm doing my best to enjoy the rest of the month while wishing it was possible to preserve some of the best parts of summer. I wonder... Can you make your tan last? Can you convince your boss to keep summer Friday hours? And can your summer fling turn into a relationship?
I can't help you with the tan or your boss, but I do know a thing or two about summer flings. What began as something fun, casual, and light-hearted has started to feel a little bit more real. You and your fling are spending more time together, you've stopped checking your dating apps as often as you usually do, and maybe you're feeling less flippant about the whole thing. Assuming you and your fling aren't flinging at a temporary summer house location and actually live in the same city, here's how to tell if your fling has long-term on the brain.