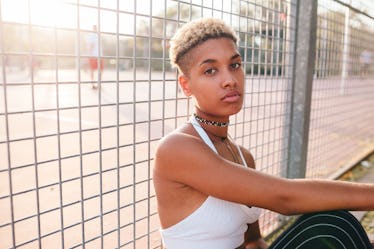 5 Signs You're Still Not Over Your Situationship That Fizzled Out
Being in a situationship is truly a mixed bag. On one hand, it can be frustrating if you really want to DTR and have a solid answer to the infamous "What are we?" question. But on the other hand, the ambiguity often feels worth it if it means you get to hang out, cuddle, and sleep with your crush. It's easy to cling onto the latter — until things go south, that is. Not having DTR'd can eat you up inside. Even if you're trying to stay unbothered, you can typically spot a few signs you're not over someone you unofficially dated.
All signs will typically come back to one thing: a lack of closure. Closure is never guaranteed, no matter what kind of relationship is ending. But it's difficult when that relationship is undefined. Casual dating, exclusive dating, and even FWB scenarios have structure, expectations, and boundaries — whereas situationships don't. Sometimes, says Julie Wadley, dating coach and matchmaker at Eli Simone, it's not even about the partner label. But a clear and mutual understanding of what the relationship is definitely needed. Moreover, Wadley continues, "It's hard to get over [a situationship], because it never really 'started.'"
Here are five signs that you're still stuck on your undefined ex and here's what you can do about it.