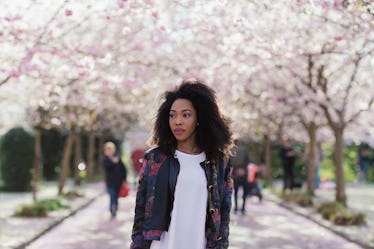 How To Stop Being In Denial About Your Breakup So You Can Start Moving On
When you go through a really rough breakup that you did not see coming, it's easy to fall into denial. Being blindsided is no joke, and if you thought everything was going well in your relationship, being in denial about it ending is normal. But by figuring out how to stop being in denial about your breakup, you can take the necessary steps to get over your ex. Because blasting "thank u, next" on repeat can only do so much, y'all.
"Let yourself feel all the emotions," dating coach Diana Dorell tells Elite Daily. "Denial is a part of the grieving process, and the end of a relationship really can feel like a death of sorts. Trying to skip over how you feel or distracting yourself from your feelings is only a temporary solution." Being in denial can be tricky. Denying the breakup might help you feel better in the moment, but in the long run, you're going to have to face the facts and come to terms with the breakup. How else are you going to move on to the kind of love and relationship you deserve? Here's how to get out of that rut, so you can start the next phase of your life feeling fresh and ready to face the world.