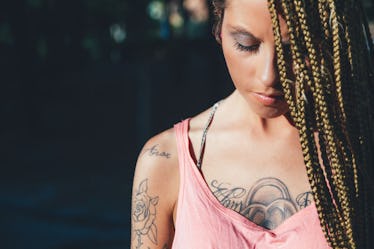 5 Signs You're In Denial About Your Breakup & Its Time To Move On
Moving on from the end of a relationship can be really hard on anyone, especially if the person who is now your ex was once someone you once really believed could be "the one." Sometimes, rather than facing that it's really over, we're tempted to just to ignore it and refuse to accept that the breakup is final. It may feel like the least painful option in the moment, but in reality, denial is just a recipe for prolonging your own suffering. This means it's time to get real about the signs you're in denial about your breakup, so that you can finally move on for good.
Getting over heartbreak sounds great, but unfortunately the first step is hard, and that's recognizing that you're in denial. In order to properly begin the healing process, you have to let go, which means recognizing "optimism for a reconciliation" is actually just plain old denial. If there's no chance for reconciliation, it's not healthy to convince yourself there is. I reached out to relationship experts for their takes on what being in denial about a breakup looks like. Here's what they say are some common red flags of someone holding onto a relationship that's over.