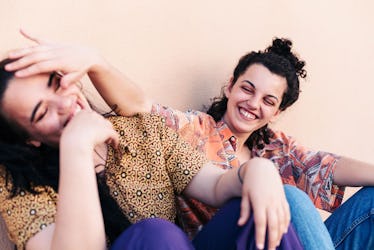 10 Happy Love Songs That Make For The Ultimate Summer Dating Playlist
As a quintessential Libra (aka hopeless romantic), I can honestly make the case for falling in love in any season. But there's something special about relationships or even flings born at summer camps, in the trenches of an internship, on a breezy rooftop, on the beach, or poolside. And of course, each year brings a fresh round of happy love songs for summer, serving as a backdrop for sun-kissed romance. Regardless of genre, these hand-clapping, finger-snapping songs capture all the exhilarating feels that come with dating in summer.
These are the bops about flirty exchanges at the bar or with co-workers, that gently tug you out of "just friends" territory. These are ones where you can't stop thinking about your crush and what they're up to. And whether you're finally going to invite them over, because the longing is palpable. These are the slow songs about the anticipation for what comes after this excellent date — and a smooth second date, and a triumphant third one. And finally, these are the songs about that effortless peace that comes when you're hanging with the right person.
Maybe you're fresh off a breakup and on the rebound, hooking up and seeing where it goes, or fully prepared to open your heart to a romantic partnership. Whatever the case, here is a soundtrack for a season of hot, dreamy romance.