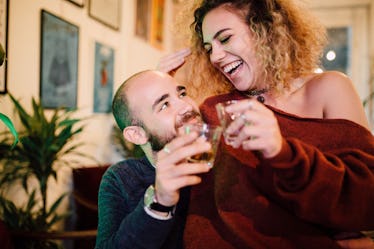 How To Get Someone At A Bar To Notice You, Because It's Tough
It's the classic meet-cute movie scene: Two people lock eyes across a crowded bar and begin to work their way toward each other. They exchange names, flirty banter ensues, and before long, they're making out and maybe even planning to head home together. Sounds simple enough, right? But in real life, getting someone at a bar to notice you can be tricky. It's never quite as easy as it looks in the movies. When you're dying to get their attention, what should you do?
The thing is, bars aren't always ideal places to try to meet someone new. They can be crowded, dark, and loud — not to mention, people are often there with their friends, which might make it seem intimidating to approach them. But with the right technique, you can have your own rom-com worthy moment with the hottie you've spotted across the room. I spoke with Dr. Darcy Sterling, licensed clinical social worker and relationship expert, to learn some tricks for catching the eye of the person you're crushing on, even if you're feeling super nervous to talk to them. While you can never be sure where the night may lead, you can feel confident you've done their best to pique their interest. Here's how to make it happen.