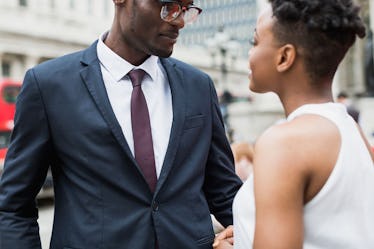 How To Make The First Move On Your Crush, According To 16 Woman Who've Done It
Some things in life, unfortunately, don't come naturally to all of us. Like, for example, how to make the first move on your crush. Take me, for example. I'm in a relationship now, but just the thought of having to come up to someone and tell them I liked them or was in any, way, shape or form interested in them used to make me feel sick to my stomach. Then, one time, I did it. And you know what? I didn't die! It was fine. And the best part? I got rejected and it was fine! I went ahead and did the thing I was so afraid of, the worst case scenario happened, and I survived!
And now I just hope every other woman on the planet gets to experience the same thing. OK, well, maybe not the rejection part. But the confidence to make the first move part. Luckily, a recent Reddit AskWomen thread asked ladies to share their very best tips for making the first move with people they're interested in. And you have to trust me on this. Their responses literally could not be better. Grab a notebook and pen before you dive into this one because you're definitely going to want to take some notes here.