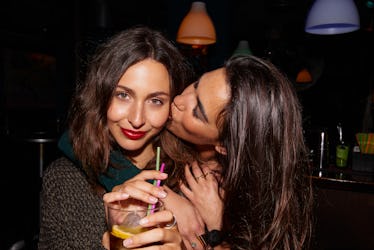 8 Women Share Tips For Asking People Out At Bars & Parties, Because Flirting Can Be Fun
It happened. After weeks of staying in and watching your favorite Canadian comedies (Schitt's Creek, ILY), your friends finally convinced you to put on a real bra and some eyeliner and go out. Like, out-of-your-apartment, maybe even out-of-your-neighborhood out. And, when you finally get there, after three subway transfers (let's be real: An Uberpool you overpaid for), you realize that you're surrounded by some major cuties that you'd be super into talking to, if only you knew how. If you're in the market for some tips for asking people out at bars and parties, look no further.
From breaking the ice with an innocent, "Do you know where the bathroom is?" to asking a cutie to take a picture of you and your girls looking super adorable, these tips for taking the plunge and asking someone out are totally helpful. Meeting new cuties can be stressful for everyone, but with a game plan in mind and a little self-confidence, you can totally relieve any potential nerves and get straight to flirting with new cuties.
I asked eight women how to ask someone out at a bar or party, and what they said will make you want to go out, like, tonight.