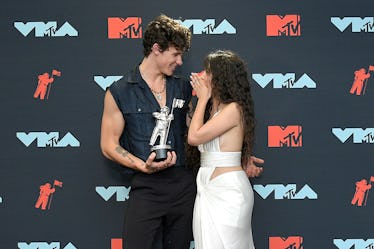 A Body Language Expert Says Camila & Shawn Seemed Legit In Love At The VMAs
Roy Rochlin/Getty Images Entertainment/Getty Images
The time has come for us all to sit down and talk about Shawn Mendes and Camila Cabello's 2019 VMA body language. If you were watching the MTV Video Music Awards on Aug. 26, chances are you might have felt the room you were watching in get about 20,000 degrees hotter as soon as Cabello and Mendes took the stage. Even if you were watching in a legit freezer, it wouldn't be long until it turned into a hot tub. You get the picture. It was steamy.
And it's not just adoring fans who thought their chemistry was red hot. Traci Brown, body language expert and author of Persuasion Point, did a close analysis of all of the pictures and videos of Cabello and Mendes feeling each other both on and off the stage at the 2019 VMAs and she agrees, you guys: Their connection is undeniable.
If you had no idea Cabello and Mendes were even an item, don't be too hard yourself. Their romance is fairly new. Cabello just broke up with her ex Matthew Hussey back in June. Shortly after her split from Hussey, rumors started swirling around saying that Cabello and Mendes were more than just coworkers singing a song together. Even after they were reportedly spotted packing on the PDA all over the country, some fans remained skeptical that their relationship was even real. (Elite Daily previously reached out to reps for Cabello and Mendes for comment on their rumored relationship and did not hear back.)
But Brown is here to put any doubt to rest. "They're not faking it," she says. "They seem like the real deal." Below, Brown breaks down why.