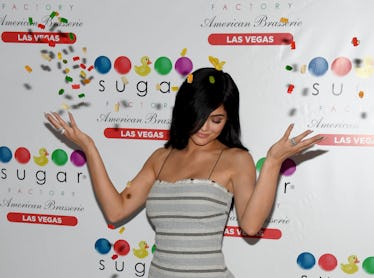 These Reviews Of Kylie Jenner's Purple Kyshadow Palette Will Make You Want To Buy It
Ethan Miller/Getty Images Entertainment/Getty Images
If it's fall and Kylie Jenner didn't drop a new makeup collection, did fall really happen at all? Fear not, Kylie is dropping her newest fall collection on Friday, Oct. 6, and fans are so, so excited. Reviews of Kylie Jenner's Purple Kyshadow palette are even better than the last couple of releases. One thing is for sure — fans are here for the newest Kylie Cosmetics collection.
Previously, on Aug. 1, Jenner dropped her "#KylieTurns20" birthday makeup collection and earned some less than raving reviews. While people love the formulas that are used for Kylie Cosmetics, the collection full of pinky hues and glittery packaging was not as well received. Some other complaints included that the rosey palette was too similar to Kylie's Valentine's Day collection.
Well, Kylie definitely listened to the feedback from fans and made some big changes for her newest cosmetic items. The packaging for the fall collection is all black and looks super sleek. Kylie experimented with new colors, specifically with her lip kits, that she's never attempted before. TBH, there are some seriously unique lip kit colors that I don't think I've ever seen before — from Kylie Cosmetics or any other makeup manufacturer.
I scoured YouTube for fall collection reviews, but did not find any legit ones up yet. I'm sure popular beauty vloggers have just recently received their Kylie fall collections and have not had time to put up their opinions. Keep an eye out, I'm sure they're coming soon.
However, Kylie made a few videos to show off different applications of her new collection.
One video features Jenner and her BFF, Jordyn Woods, applying each new fall lip kit shade. Kylie explains in the video,
I just wanted this collection to be colors I've never done before. Out of the box and just really fun.
With colors like "Butternut" and "Wicked," I think Jenner did a great job of bringing something new to the table. I was surprised to see that the video is actually a pretty honest review. Woods even admits that "Libra is not for me."
As far as the newest purple Kyshadow palette... be excited. Jenner invited Ariel Tejada to apply her eye makeup using only the new fall palette. You may recognize "Makeup by Ariel" as the artist behind some of Kim Kardashian, Shay Mitchell, and Ashley Graham's (just to name a few) most glam makeup looks.
Ariel used seven of the nine shadows in the palette to create Jenner's purple eye. He gushed by saying,
I really fell in love with the palette. I thought it was just really vibrant and I just fell in love with how the color story went together.
Ariel did admit,
Whenever Kylie asks me about color, like if we want to do something with color, I'm always the one to try and kick her off of it, but this palette is making me really love color. I think that's important because the fact that somebody like me who really doesn't like playing with color enjoys it — I think it's a good palette.
Personally, I can't wait to try Kylie's new products. I think that shows a lot about a company that they are willing to make changes and create something new based on fan reactions.
Kylie did explain that each Kyshadow palette is difficult to produce, but she's learned a lot since her first "Bronze Palette" in July of 2016. She said,
Palettes are so hard and there's so much that goes into it ... I'm learning each time and I'm excited about the purple palette because now it's a part of the family.
Hard work has paid off because fans are so, so excited for it. Twitter is buzzing with anticipation over the release, and people are loving the new products from Kylie Cosmetics.
From the looks of it, if you love makeup or fall or Kylie Jenner or pretty things, you will like the newest fall collection from Kylie Cosmetics. Now, I'm about to go check my bank account to see how many products I can actually afford. *Waves goodbye to savings.*
Check out the entire Gen Why series and other videos on Facebook and the Bustle app across Apple TV, Roku, and Amazon Fire TV.