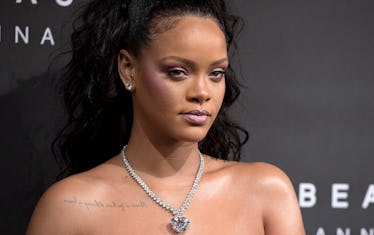 Is It Just Me, Or Is Kylie Jenner's New Highlighter Weirdly Similar To Rihanna's Fenty?
Chris J Ratcliffe/Getty Images Entertainment/Getty Images
You've got to hand it to Kylie Jenner. Between rumors of an unconfirmed pregnancy and splashy business ventures, that girl dominates the news cycle. On Oct. 3, her kompany Kylie Cosmetics announced its fall lineup on Instagram, and fans went full-on wild. Three previously limited edition highlighters will be joining the permanent collection, and that's not all. A brand new Kylie Cosmetics Ultra Glow Highlighter was introduced for the fall season — a glimmery purple shade called Wisteria. It's described as a "special lavender glow for fall," and when I laid my eyes upon it, I cocked my head to the side and thought, hmmm, where have I seen that before?
And even though I've the memory of a young gnat, it took me about three seconds to arrive at the answer: Rihanna, that's where I've seen it. The newly minted beauty mogul basically invented purple highlighter with the massively successful launch of Fenty Beauty. The line boasts two different purple highlighters: the Match Stix Shimmer Skinstick in a light lilac called Confetti and a deeper periwinkle named Unicorn.
Not only have ratings for both highlighters consistently hovered at a perfect five stars on Sephora.com, but Robyn Rihanna Fenty herself has constantly sported purple shimmer on her cheekbones. I mean, she has honestly, unequivocally made herself and Fenty Beauty synonymous with purple highlighter, even sporting it all over her face on the cover of Elle magazine. And now Kylie is coming in hot with a similar product? Shots fired.
Let us compare Kylie Cosmetics Highlighter to Rihanna's Fenty Beauty Highlighter.
Here is the shot of Jenner's new strobe agent on a model, as uploaded to Instagram.
And this is Rihanna wearing Fenty's purple Confetti highlighter at her Fenty x Puma spring 2018 fashion show on Sept. 11.
Pretty much dopplegangers, right? The similarity is striking, but there is a considerable price difference between the two. Fenty's Match Stix retail for $25, while Kylie's Ultra Glow Highlighters go for $14 a pop.
Now, you may be thinking purple is a common highlighter shade, but you'd be plain wrong. The color has been eschewed by most brands since highlighting and sculpting took off a few years ago, in favor of shades like silver, gold, and peachy pink. Rihanna really started a purple highlighter revolution, and has spared no promotional effort in staking her color's claim.
Fenty Beauty once uploaded an Instagram of its mother/master/muse literally eating her Match Stix Shimmer Skinstick in Confetti. She's also decked out in Confetti on her cheekbones, across her lids, and as a lipstick.
Maybe Jenner saw how drop-dead gorge Rihanna's purple products are and became totally inspired. The Kylie Cosmetics Fall launch contains the Kylie Purple Palette, a set of nine powder eyeshadows, and even a vivid plum Matte Liquid Lipstick. It's violet overload, y'all.
Something tells me Rihanna won't be amused by Jenner's new fav color. When beauty brand Make Up For Ever took to Instagram to tout its range of 40 foundation shades (another hallmark and selling point for Fenty Beauty) the singer immediately clapped back. "40 shades is nothing new to us," wrote Make Up For Ever. "Since 2015, the #ultraHDfoundation released 40 shades for everyone's unique skin tone understanding the difference between red and yellow undertones. With expertise, time and passion—we shall continue to develop and improve our products for pros, for you, for everyone."
"Lol. Still ashy," wrote @badgalriri, followed by "shook."
Rihanna's fans are quick to take the singer's side—and throw shade at the Kardashian/Jenner fam. On Oct. 3, a fan tweeted that Fenty Beauty will exceed both Kim Kardashian's KKW Beauty and Kylie's Kylie Cosmetics in terms of revenue before the end of 2018. The user cited Forbes magazine as the source for this calculation, and at press time, Forbes has not confirmed that figure. But how gnarly is it that her fans are going to such cray lengths to proclaim Fenty as number one?
If you're curious to put Kylie's kolors to the test, you're probably wondering when you can buy 'em. Mark your calendar for 3 p.m. PT on Friday, Oct. 6 — but don't tell RiRi.