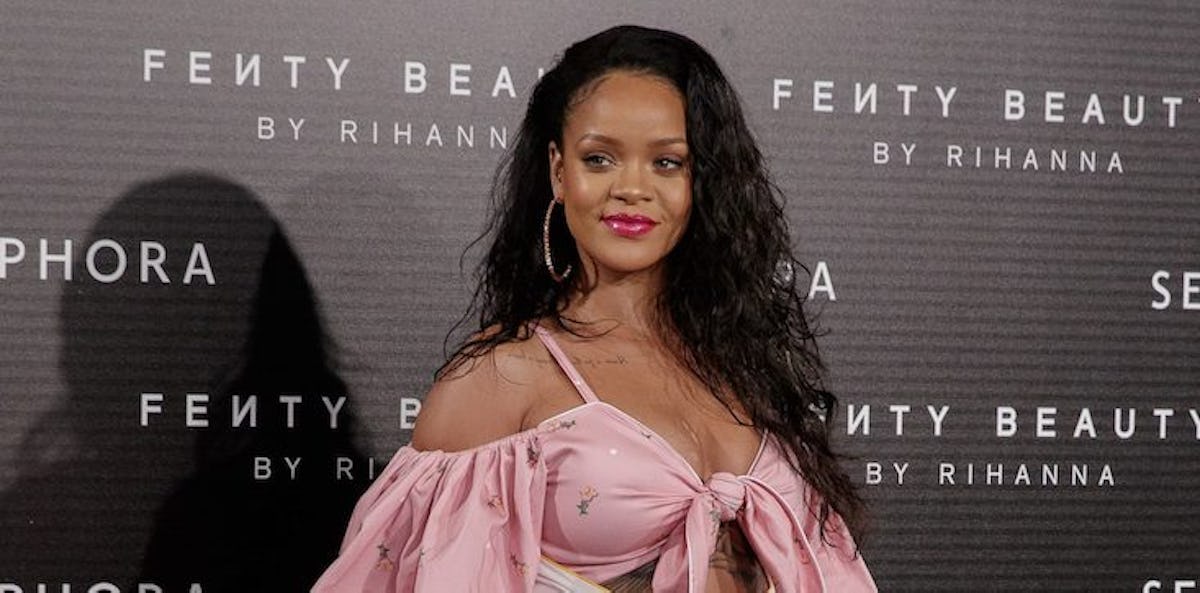 Fans Are Absolutely Freaking Out Over The Latest News From RiRi & Fenty Beauty
Getty/Eduardo Parra
These days, it seems like Rihanna is on a path to total world domination. As you may know, everyone's favorite singer/designer/makeup mogul recently launched Fenty Beauty, a line of 12 best-selling products with 40 shades of foundation. Last week, she announced that Fenty Beauty will offer a Galaxy-themed holiday collection exclusively at Sephora. And just yesterday, the internet lost its collective mind as rumors that Fenty Beauty is expanding into skincare spread like wildfire. Yes, the latest Rihanna Fenty Beauty news may mean skincare products are imminent, and beauty fanatics are freaking out over the possibility of RiRi-like flawless complexions.
Naturally, it all started with some next-level sleuthing on Twitter. A superfan with the handle @MrMouthAlmighty found a public listing of all the patents that Rihanna has applied for, and he tweeted out a screenshot to his followers. On Sept. 15, Robyn Rihanna Fenty's company, House of Fenty, applied for trademarks on "non-medicated skin care preparations, namely, creams, lotions, gels, toners," aka everything that comprises a skincare line. A glance at the extended filing shows that the official trademark request includes "cleaners and peels, hand lotions, nail care preparations, artificial nails, nail polish, nail polish removers, nail treatment creams, temporary tattoos for use as cosmetics, shower gels, bath gel, [and] perfume." In other words, everything from your manicure to your sheet mask is about to get Fenty-fied.
And it doesn't stop there. Another Twitter user found a patent filed by "Fenty Estates Wines and Spirits Company" and everyone completely lost it at the prospect of Rihanna-created wine. After all, we already know she's an oenophile with wicked taste, a prime combination for some highly-palatable vino. I can't even imagine how sexy and stylish the bottle and label of RiRi's grape juice would be, and I'm salivating just trying.
Naturally, Twitter took about two seconds to actually explode. Many fans referenced how Fenty is on track to be in every area of our lives. User @kurtisrai wrote, "Me after my daily Fenty skincare, sipping my Fenty wine, on my way to Fenty University to daydream about being featured in Fenty Magazine."
Another obsessed-fan, @fentysgrahams, joked that, "by the year 2045, everyone will be using Fenty products only. Makeup, skincare, furniture, cars, you name it. This will be Rihanna's world." Fenty is really looking like the next Amazon, for sure.
Another fan, @fatgalsarah, asked our cosmetics angel for something she just can't provide, but I'm sure Rihanna would totally wingwoman for her in real life.
However, guys aren't letting the Fenty skincare fun pass them by.
And in general, every user is lamenting how Rihanna was like, "B*tch, better have my money," and we're all about to gladly oblige.
How long do we have to pinch pennies before the new products drop? No word on the skincare release from Fenty, and recall that Fenty Beauty was originally patented in 2014. Hopefully, we won't have to wait another three years for the expanded lineup now that Fenty's up and running, but the truth is quality skincare takes time to develop, and I doubt Rihanna would rush the process. In the meantime, it's fun to fantasize about what Fenty skincare would do differently, from formulating for deeply-pigmented skin types to clever packaging.
And as for the vineyard dreams, the patent for "Fenty Estates Wines and Spirits Company" was filed by JGC Global LLC, a completely different entity unrelated to Rihanna's company. Roraj Trade LLC is RiRi's real company, which holds the patent for Fenty Beauty, the new skincare filing, and other business ventures by Rihanna. If we want wine from Rihanna, we're going to have to band together and ask the entrepreneurial star to bless us. Based on the smashing success and ambition of Fenty thus far, with a little patience and persistence, we'll be pouring it up RiRi-style soon enough.