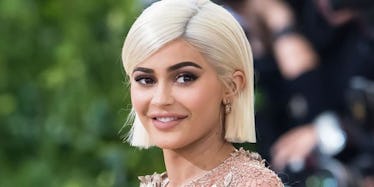 Kylie Jenner Dropped A New Purple Eyeshadow Kit & Fans Are In Love With The Colors
Gilbert Carrasquillo/Getty Images
Well, hello new Kylie Cosmetics eyeshadow palette! Who doesn't love the regal look of purple? Let's cut to the chase: How much is Kylie Jenner's Purple Kyshadow Palette and how can I get my hands on it?
Jenner recently announced the latest in her cosmetics collection and it's all just perfect for the fall months. Jenner first teased: "The Purple Palette #StayTuned," before posting the pic of the collection on Twitter later, writing: "The Purple Palette 10.6.17 @kyliecosmetics." Screaming.
Purple, of course, is the main component of the palette, from lilac to more intense shades, but there are some smoky and shimmery hues to round out the collection too. While she doesn't share how much the new Kyshadow Kit is, her typical 9 shadow palette is $42. Shut up and take my money already.
Fans were instantly in love, with comments like: "So beautiful. The pigmentation is unreal," "ARE U TRYING TO MAKE ME BROKE," "I'm obsessed with this," "I can't wait," and "I need." Lots of feels, most of them revolving around obsession and going broke, I can relate.
Here's a peek a the packaging (set atop fall leaves, I see what you did there) and then the nine beautiful pressed eyeshadows.
If you've been looking to see how all these colors will translate on your eyelids, well Jenner has that covered too, tweeting a pic of arm swatches. If you didn't want them before, you certainly will now. Every single color is perfection.
As if that all wasn't enough to blow your mind (and your budget, sorry), in a new lip kit reveal video, Jenner and Jordyn Woods show off the five new Kylie Cosmetics Fall Lip Kits: Autumn, Hazel, Butternut, Libra and Wicked. They launch Oct. 6 on KylieCosmetics.com.
The ladies have a go at trying out each color so you can get a feel for exactly how they look in real life, beginning with Autumn, which Jenner calls "so gorgeous." Butternut is next up and while I wouldn't think it would be that pretty in a lip color, it's surprisingly a cool shade. Jenner explains her collection as "colors she's never done before" and Butternut certainly fits the bill!
On to Wicked, which is "true purple vibes," according to Jenner. It's so vibrant and gorgeous, right? Libra is "the lightest color I've ever done," Jenner admits, and it's super pale, so it probably won't suit all skin tones. Finally, they give Hazel a test drive. It's a shade of brown, definitely autumnal, which Jenner calls close to the Brown Sugar shade. Hey, you've got to have a brown in the mix.
Overall fans are in love with all of it, with one person tweeting: "In love with this palette and now I absolutely want it right now! so excited to buy it with the lip kits!! good job gurrrl!!"
Another commented: "y'alll kylie just released a lip color called "Autumn" and you KNOW i'm copping that so fast."
And one fan called on a pro to weigh in on Jenner's new stuff, tweeting: "@JeffreeStar what are your initial thoughts on kylie's new fall lip kits and her purple palette??"
Jenner is clearly keeping the focus on her products and avoiding all the pregnancy reports. Gotta keep that empire booming, y'all. After all, momager Kris Jenner todl Women's Wear Daily that since Kylie launched her first Lip Kit, she has made $420 million over the past eighteen months. If that's not impressive enough, Kylie's on the fast track to have a billion dollar business by the time she's 25.
Check out the entire Gen Why series and other videos on Facebook and the Bustle app across Apple TV, Roku, and Amazon Fire TV.