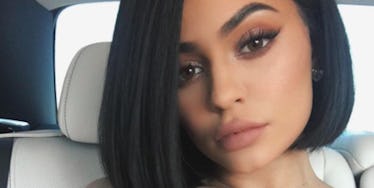 Kylie Jenner Surprised Fans With The Kyshadow Palette In The Coolest Way
Instagram
Kylie Jenner debuted the newest addition to her Kylie Cosmetics line today, and I think we can all agree that it's seriously epic.
As we reported earlier, Kylie put us through a TON of stress this weekend as we anxiously waited for her to announce her "surprise" on social media.
All of our makeup fantasies were finally answered this afternoon.
Kylie's surprise was certainly well worth the wait.
Behold the gorgeous Kyshadow Palette…
Kylie Jenner just made all of our ~Bronze~ smokey eye dreams come true...
She had the prime photo op to take a cute snap with King Kylie, of course, to go with her sick new Kyshadow Palette.
Seriously though, how cool is Kylie casually showing up at this other fan's workplace?
I have to give major props to this gal for being super chill about this entire situation. If I were in her shoes, I would be hardcore FLIPPING.
This is a pretty rad move, Kylie, and I will live vicariously through these fans while I'm doing my makeup before heading out tonight.